While makeup and cosmetics are mostly created and marketed for women, a rapidly growing segment of the market is targeting guys as well. No, we're not talking about feminine cosmetics like rouge and lipstick. Instead, Menaji Skincare for Men products focus on covering blemishes and making your skin look better. While there are individual products, I love that this Men's Makeup Starter Kit is designed to have everything you'd need as a man to try stuff out and hide blemishes like scars, rashes, even dark circles under the eyes and shine reflecting off oily skin. Frankly, not only is this a good idea for most men to have in their dopp kits - it makes a great gift for guys that are graduating this year and looking for a way to succeed in their job interviews.
When they emailed me about this product, I was skeptical if it would reach outside of a very small niche of guys that may already be using similar products designed for women. However, when I started to think about situations like appearance in photos, interviews, first dates, and really any time you might want to have that extra edge it started to really make sense. While some of you may mock the concept of "Makeup for Men", the rest of us are going to be looking great in photos and getting attention from the ladies!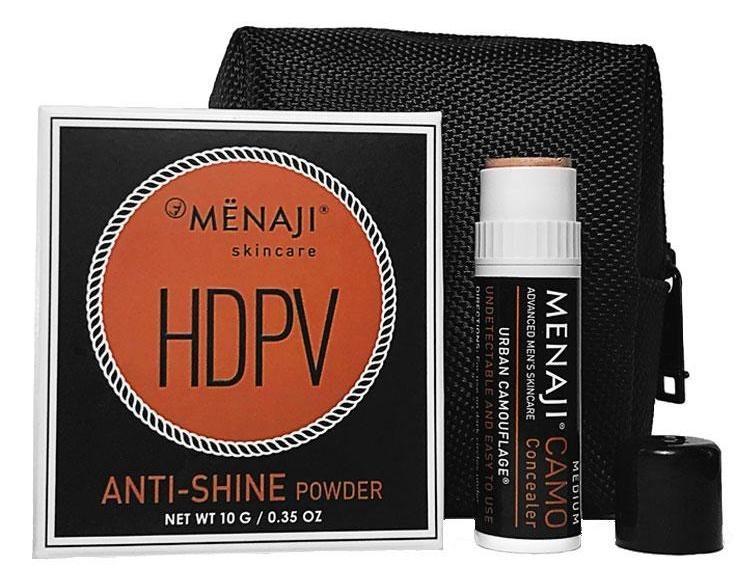 The Menaji Advanced Men's Skincare Makeup Starter Pack includes:
Urban Camouflage - A stick designed for spot coverage of blemishes including breakouts, redness, scars, and dark circles under the eyes.
HDPV Anti-Shine Powder - This powder helps to compensate for excess oil produced by the skin - especially in times of stress. Simply blot it on and it will help block the shine from your face, forehead, nose, or chin. It also functions to cover up some blemishes, fine lines, and other coloring imperfections.
When ordering, you can select from a wide variety of colors to match your skintone. The Men's Makeup Starter Pack comes in a small black bag made of ballistic nylon so it can be your little secret! You can order it online for $62 on the Menaji website.