The term "jacket" usually seems to be straightforward but includes a wide variety of different types, designs, and styles. When picking a jacket for winter, people usually prefer leather jackets for the comfort they need along with the jacket style.
When buying leather jackets for the fall, it is important to understand the requirements. Some buyers prefer comfort while others choose style over comfort. But usually, the priority of the buyers is to pick jackets that can provide them with a stylish look along with the warmth they need for the fall. This is where leather jackets always turn out to be the best.
Leather jackets are known for their stylish look. They are highly durable, stylish as well as best for the chilly winters. Genuine leather jackets are picked most for the fall as they are made with 100% goatskin leather which provides you warmth so you can stay comfortable even during the fall.
When buying a leather jacket for the fall, the one thing that bothers people is which leather jacket they should pick for the particular occasion. The presence of different types and styles of leather jackets makes it tough for them to pick the perfect leather jacket for different occasions. However, some common tips that may help you pick the perfect leather jacket for the right occasion this fall are listed below.
Keeping The Quality Priority
One of the best ways to pick the perfect leather jacket for the right occasion this fall is to keep the quality of the jacket priority. During fall, it is essential for you to make sure that the leather jacket you will pick is perfect enough to keep you warm. The warmth that you can expect from a leather jacket highly depends on its quality. Leather jackets that are made with 100% genuine leather/goatskin or lambskin are more comfortable and warmer than those made with the use of artificial leather. Keeping the quality priority help you pick the leather jacket that you can easily wear on any occasion throughout the fall.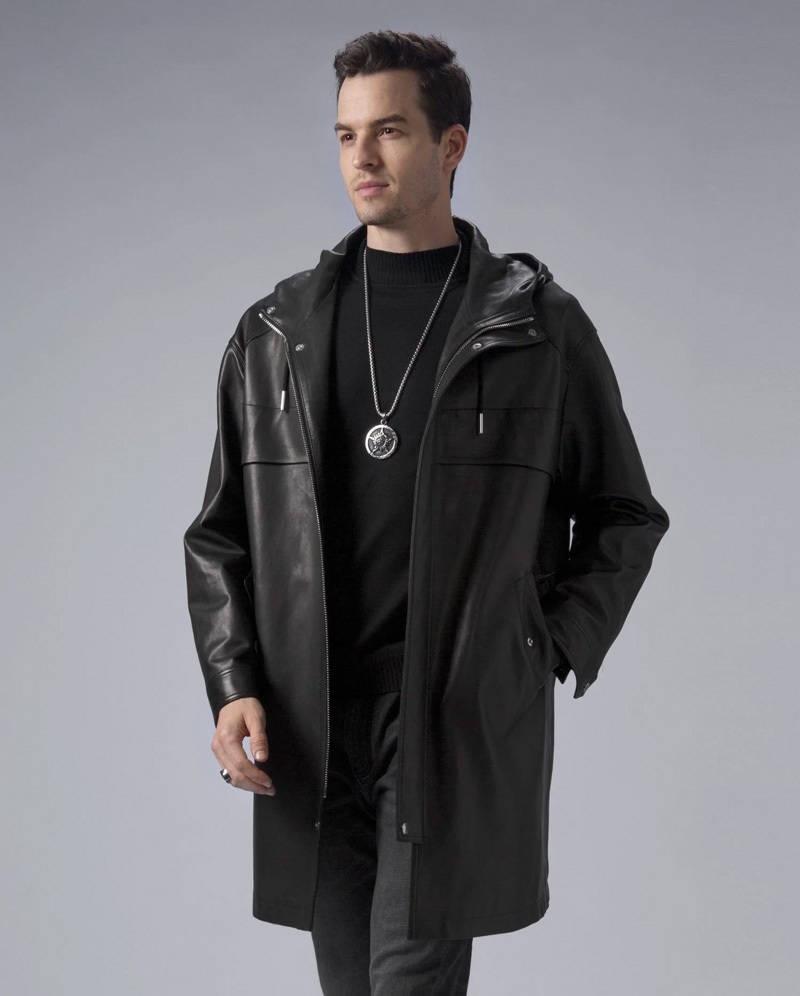 Attention To The Length
Leather jackets come in different lengths. Depending on your choice, you can easily get a regular-length leather jacket and a long jacket for the fall. Long leather jackets give you a perfect look for an outdoor event. Their length not only just hugs you perfectly but also keep you warm. These jackets hit low on the leg and thus keep you covered up. This makes them perfect for the fall. The sleek look of long leather jackets help you look taller. For a stylish and comfy look, you can easily style a long men's leather jacket with denim. They keep you warmer than regular, short jackets.
Many long leather jackets not just have a coat-style look but also keeps you warm during the fall. They also improve your confidence which further makes you look stylish and perfect for a date/meeting. During fall, you can easily pick a long leather jacket to look the best on your date and make your date interesting and memorable.
Long leather jackets turn out to be best for a casual business look. These jackets help you get a casual business look and also turn out to be perfect for a night date. Long leather jackets can also be used for long trips during the fall. Trying a long leather jacket for a bike trip also turns out to be beneficial. The good length of long leather jackets helps you protect yourself from harsh winters.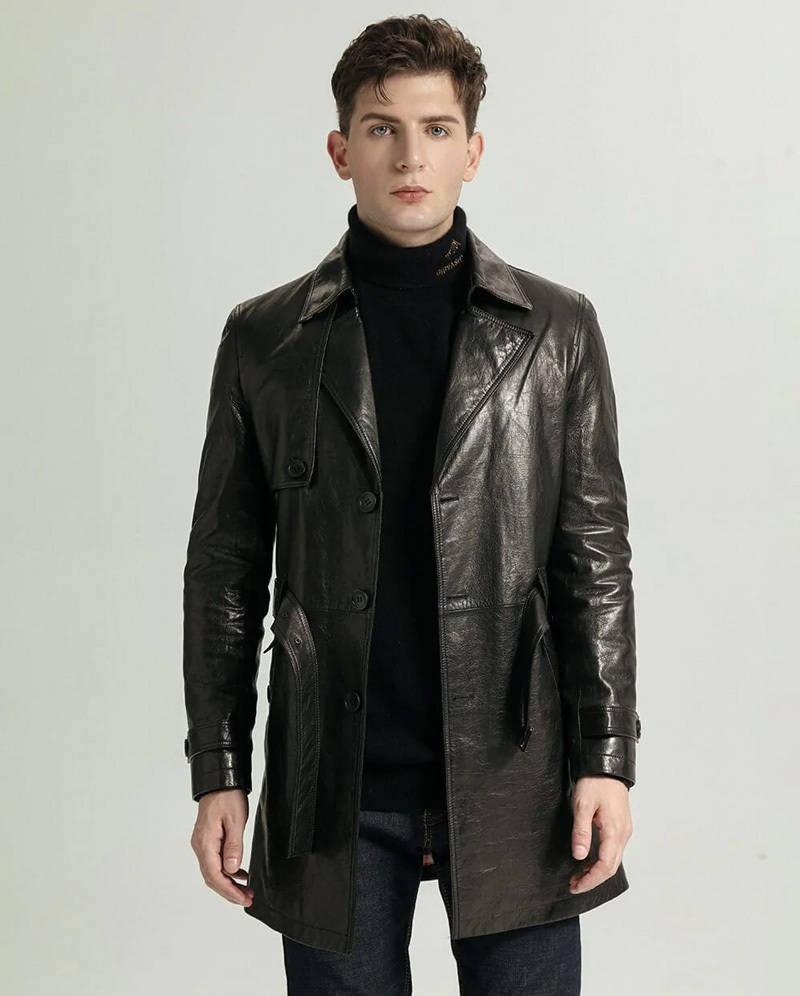 Checking The Pockets
Many buyers prefer leather jackets with good pockets. Their preference is more towards those leather jackets that have stylish or unique pockets. Leather jackets with more pockets give you a sporty look. They are perfect for bikers, travelers, and for those who prefer carrying their stuff like mobiles, tablets, sanitizer, wallets, and other things in hand. You can easily choose between jackets with simple pockets, and jackets with stylish, embossed, or embroidery work on them. Jackets with zipper pockets turn out to be best for bikers and travelers. Buying such type of jackets help you keep your stuff safe. Their pockets also help you keep your hands warm even during the chilly winters.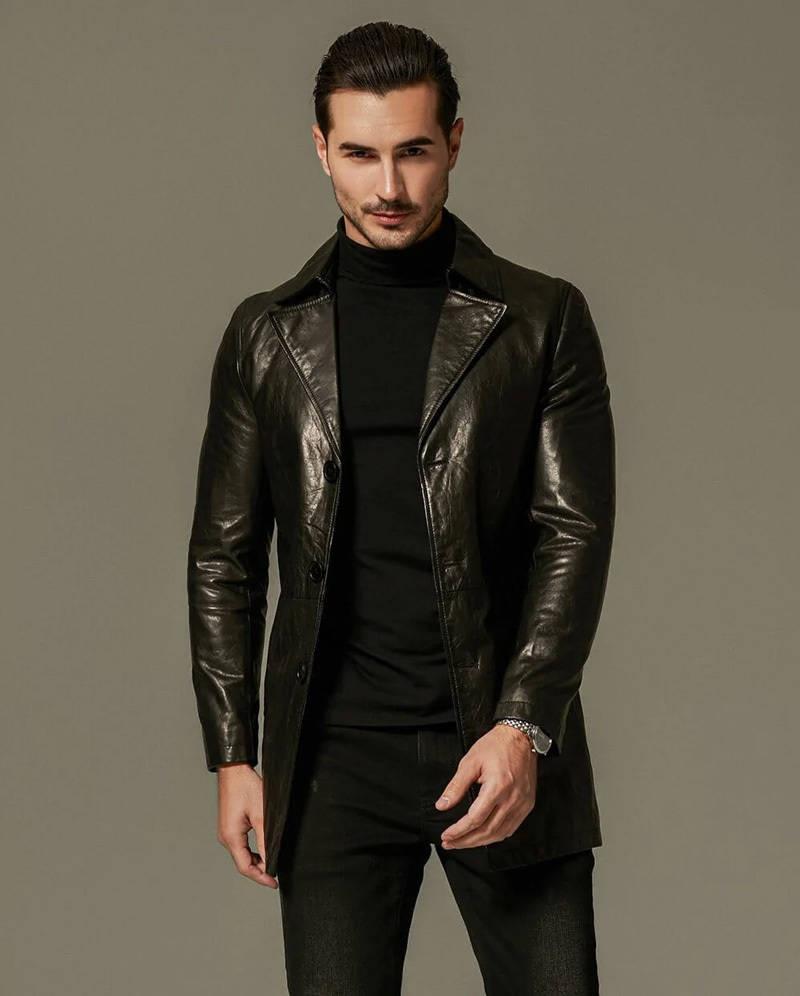 Fur Or Without Fur
Leather jackets for fall usually come with fur to add more comfort and warmth to the product. People prefer leather jackets with fur so they can keep their hands and neck warm. No doubt the fur gives a more stylish look to the jacket but also keeps you warm and counts most during the fall. Picking a fur leather jacket with removable features helps you change your look as per your requirement.
The fur added to the jackets is highly soft. These days many motorcycle and bomber leather jackets come with fur styling. The fur jackets turn out to be the best for birthday parties, anniversaries, festive celebrations, new year eves, and much more. Some fur leather jackets come with the unique feature to remove the fur as per the requirement while others have Embossed Patches that keep you stylish and unique.
Evergreen and Elegant
Genuine leather jackets are usually evergreen and elegant jackets that are highly durable and can be used for any occasion. But some genuine leather jackets not just give you a perfect look but also turns out to be best for casual parties, meetings, get-togethers, etc.
Popular PalaLeather Genuine Leather Jackets like Black Genuine Leather Multi-pocket Vest, Black Belted Vegetable Tanned Goatskin Leather Jacket, etc. are not just evergreen and elegant jackets but are high-quality leather jackets that can be styled easily in different ways. When these leather jackets are tried with faded or contrast jeans they help you get one of the best casual looks during the fall.
Conclusion
Artificial leather jackets are more affordable than genuine leather jackets. Suppliers that offer leather jackets at cheap rates or high discounts usually offer fake or artificial leather jackets. The jackets offered by them are neither warm, comfortable, nor durable. Picking these leather jackets can help you look stylish and save some initially but their short durability, low quality, and uncleaned look always turn out to be expensive. So make sure to pick a genuine leather jacket from an experienced and reputed supplier.