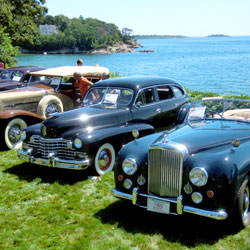 Kensington Tours sends us quiete possibly the most amazing (and WAY over the top) mancation package I have ever laid my eyes on.
This is a magical, once-in-a-lifetime Monterrey Motorsport weekend in sunny California. From the Concourse D'Elegance on the sacred greens of Pebble Beach to the Rolex Monterrey Motorsports Reunion at the famed Laguna Seca Track, this is the fully loaded adventure that Dad's dreams are made of.
Kensington Tours, North America's leading tour operator specializing in custom privately-guided adventures, has expertly designed the over-the-top journey to bring the fantasies surrounding vintage cars to life for motorsport enthusiasts. This also makes a fantastic Father Son mancation idea as cars are one of those opportunities that we men can take to share important knowlege and pass down traditions.
Relish an experience filled with champagne, world-class sights, luxury suites and historic tales, during a weekend spent in the event's VIP sections with private pit tours at the Motorsport Reunion and exclusive access to the invitation only Chairman's section of the Concours D'Elegance. The highlight of this extraordinary trip will undoubtedly be your exclusive opportunity to view the Rolex Reunion race from the WWII Bomber Jet "Heavenly Body" that will fly over the race. Don't miss your chance to be one of five people in the crowd to take in the aerial view Laguna Seca from aboard the historic jet!
The five-day, four-night package is available for an August 17, 2012 departure. Rates start at $17,895 per person and are based on double occupancy. For more information visit https://www.kensingtontours.com/Tours/North-America/United-States/California/5-Day-Monterey-Motorsport-Weekend or call (888) 903-2001.
About Kensington Tours:
Kensington Tours offers custom and private guided tours to over 90 countries worldwide. The flexibility of Kensington's offerings results in tailor-made journeys that are carefully handcrafted to deliver personalized adventures like no other company. Kensington Tours was named to "World's Best Awards 2011" by Travel + Leisure Magazine and named one of the "Best Adventure Travel Companies on Earth," by the editors of National Geographic Adventure Magazine.