There's an off the beaten track, very special place in Florida that provides endless opportunities for every type of fishing imaginable: surfcasting; fly-fishing in saltwater and freshwater; back-bay fishing; kayak fishing and of course, deep-sea fishing.
This secret spot is Charlotte Harbor & the Gulf Islands, on Florida's Southwest Gulf Coast, now referred to as Punta Gorda and Englewood Beach, it is one of Florida's premier fishing destinations. It is also the Tarpon Capital of the World. The beaches and barrier islands around Charlotte Harbor have been attracting anglers since the Calusa Indians populated the salt marshes more than 1,500 years ago. Halfway between Sarasota and Fort Myers, this collection of former fishing villages has evolved into nine charming, low-rise coastal communities and four barrier islands clustered around the state's second-largest harbor. It's also easy to get to, with Fort Myers airport only 30 minutes south. They also have the Punta Gorda - Charlotte County airport with service on Allegiant direct to major cities in the Eastern United States.
Today, 84 percent of Charlotte Harbor's 830-mile shoreline remains protected from development to preserve this haven for outdoor enthusiasts. That means that while other great fishing destinations are either a long journey from civilization or overgrown with luxury condos, here you'll be out in nature within minutes.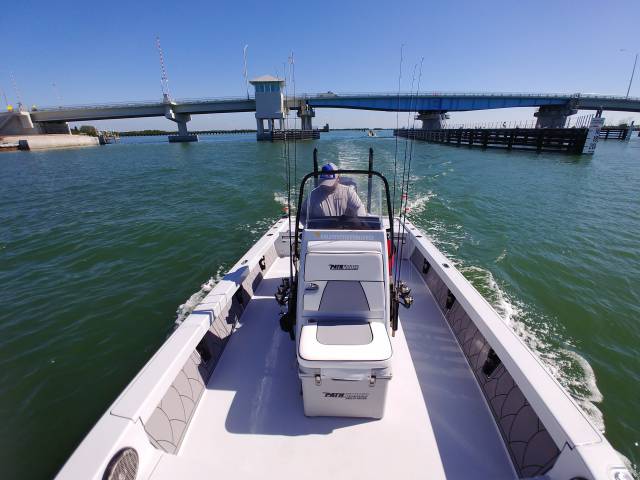 We went fishing with Captain Jay, star of Guidelines and had a blast in Charlotte Harbor.
Freshwater and Saltwater Fishing
The Peace and Myakka Rivers, Charlotte Harbor, Lemon Bay and the Gulf of Mexico are fertile grounds for fresh- and saltwater catches.
The waters fluctuate from fresh to brackish to salty, creating a system that supports more than 300 species of fish. In the 1800s, Tarpon fishing originated offshore as a pastime for the wealthy and vintage postcards proclaimed Charlotte Harbor the "Tarpon Capital of the World." Today, from April through early July though, you can find plenty of tarpon inside the harbor a quick ride from the dock or you can go in search for it and other game fish offshore too.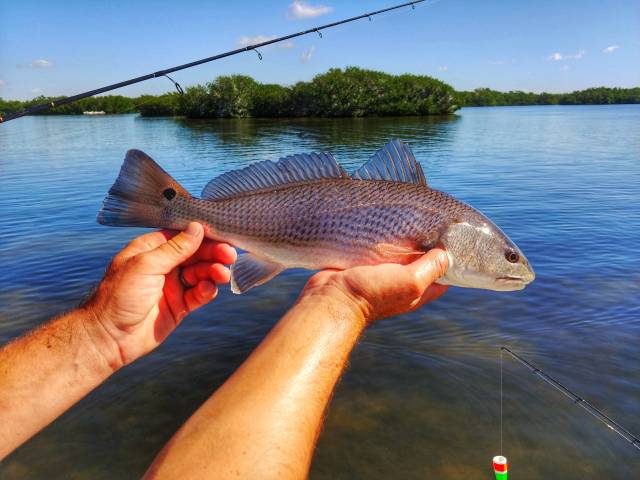 Perfect for Father and Son Fishing Trips
Gasparilla Island has been host to famous father and son fishing expeditions for decades, with famous men including John F. Kennedy, J.P. Morgan and Presidents George H. and George W. Bush visiting the area. In 1917, Teddy Roosevelt even caught a 16-foot manta ray.
Two of Charlotte Harbor's best-known fishing guides have their fathers to thank for being in the business of showing guests their favorite fishing holes. Captain Ralph Allen inherited King Fisher Fleet in Punta Gorda from his dad in 1981 and never tires of fishing every day. "I've taken quite a few guided trips with families of two and three generations," he said. "They're some of my favorite trips." Captain Ralph, who began fishing with his father when he was 2 ½ years old, knows the area as well as anyone – but there's always more to explore. "There's 200 square miles of water here: seagrass flats, brackish water creeks, surf fishing, inlet fishing, pass, ponds and lakes," noted Captain Ralph. "It would take forever to fish it all, let alone become an expert at all of it."
King Fisher Fleet takes groups deep sea fishing in the Gulf of Mexico where guests have caught a 180-pound Tarpon and a 107-pound Amberjack. Captain Ralph and his team also offer guided back bay fishing trips in the Charlotte Harbor Aquatic Preserve, catching shallow water game fish including Snook, Redfish, Sea Trout, Cobia, Snapper, Shark and more on light tackle.
Get Back to Nature With Kayak Fishing and Eco Tours
It's Time! Kayak and Canoe is a privately owned kayak and canoe rental operation in the Port Charlotte, Punta Gorda area of southwest Florida offering easy paddle-out, paddle-in rentals, guided eco-tours, multi-day excursions and outstanding winter kayak fishing opportunities on the lower Peace River and Charlotte Harbor estuary system of Charlotte County.
One of the latest trends right now is ecologically-oriented kayak fishing and nature tours. Kayaks are the ultimate low-impact vessel and they are less expensive than gasoline-powered watercraft since they require no fuel other than human-power. They are also so quiet that one can easily glide into fishing areas and wildlife habitats without disturbing finned or feathered inhabitants. While some first-timers say that kayaking isn't for them, you don't need to be super in shape to enjoy kayak fishing. However, there are obviously weight restrictions so larger guys like myself might be more comfortable. Some manufacturers do make kayaks suitable for up to 400 pounds, but call your rental company before assuming things if this is a concern for you.
If you love wildlife and archaeology as much as fishing, ask your guide to tour through the islands of Cat Fish Creek for an unforgettable photo opportunity with rare and endangered waterfowl, manatees and bottlenose dolphin. You'll also be able to view of one of 34 ancient Indian mounds and remnants of villages inhabited from 700 to 1300 A.D.
Guides and rental companies will be able to teach the tips and tricks of kayak fly fishing in no time. Just be sure to bring a camera or camcorder to capture the new memories of a lifetime. There are a variety of great fishing packages at area hotels that the people at the
Punta Gorda and Englewood Beach Visitor's Bureau can help you find, but here are two ideas that sound particularly great for guys on a fishing mancation.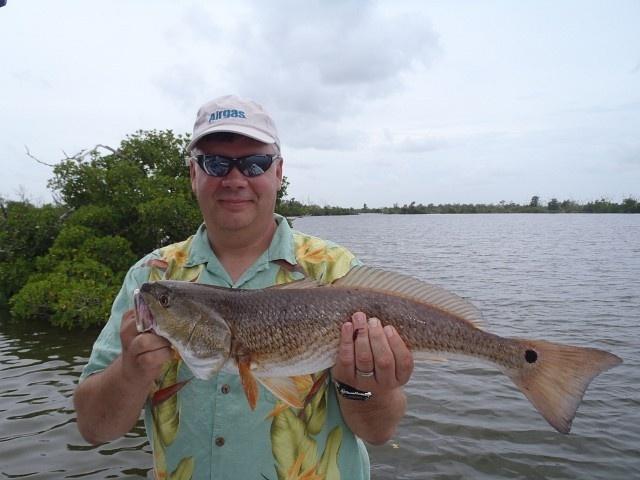 Fisherman's Village Fishing Package
The Fishermen's Village Waterfront Mall Resort and Marina features a Back Bay Fishing package that includes a Two-Night stay at Fishermen's Village Resort, Two Sunset Cruise tickets, and Back Bay Saltwater Fishing Charter trip. Pricing starts at: $399 per person, plus tax, based on double occupancy Guests will enjoy a two-night stay in a 1,000 sq. ft. Vacation Villa overlooking gorgeous Charlotte Harbor in Punta Gorda, Florida. On your first evening, enjoy a Sunset Cruise on the calm waters of the harbor. The next day, shallow water fishing in the Charlotte Harbor Aquatic Preserve. Inshore gamefish include snook, redfish, seatrout, snapper, tarpon, shark and many other species. We fish with light spinning tackle for maximum fun on these sporty fish. After your excursion, shopping, dining and nightlife await you at Fishermen's Village.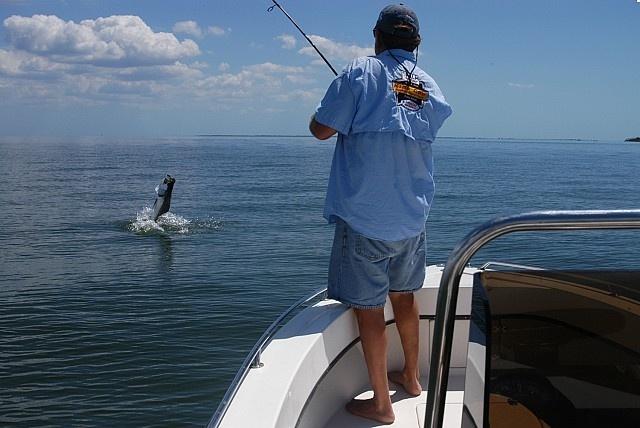 Boca Grande Tarpon Fishing
Gasparilla Island, also known as Boca Grande, is accessible by the Boca Grande Causeway, where fishing-folks and friendly local artsy types rub elbows with some of the world's richest and most powerful, including, from time to time, members of the Presidential Bush family. Private homes and resorts are situated close to public beach access, and a rails-to-trails bike path runs the length of the island, surrounded by lush vegetation. While cars are allowed on the island, golf carts and bikes are more popular. The Island House Inn at Boca Grande Resort hosts golf devotees, sport fishing parties and nature lovers alike. Fourteen lavishly renovated, island-style Tommy Bahama rooms. Enjoy a cocktail, a casual meal and live music at Harbor Light, or have a world-class dining experience at the Boca Bistro. A tropical medley of inventive and luxurious cuisine, as well as prime steaks and lamb chops and the freshest seafood.