Biltmore Estate is more than just stuff for the girls. In fact, this place is a hidden gem for those of us seeking some outdoor adventure while exploring how the "other half" lived. Even better is that it is located in one of the BEST mancation destinations in the United States - Asheville, NC.
To be honest, before I was invited to come to experience all that Biltmore had to offer I was more excited about simply having a reason to return to Asheville. *shrug* its a big fancy house with a big fancy garden, but what's there for the guys?
That isn't to say that guys won't enjoy those elements as well, but that alone wouldn't compel me to pile all the guys in the car and drive (or fly) down there.
Luckily, there was far more to the Biltmore Estate than just the house!
The Biltmore House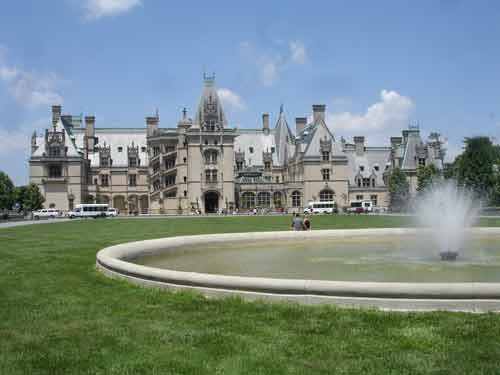 Ok, so let's start with the centerpiece of the entire estate. Our tour was actually a lot more interesting than I had expected it to be. George Vanderbilt had the house built when he was only 34, but he had enough money to do whatever he wanted.
As a result, the Biltmore House incorporated a lot of things that all of us wish we had in our homes: bowling alley, gun room, indoor swimming pool, giant fireplaces, animal heads on the dining room walls and an awesome kitchen ready to prepare virtually anything we could possibly want.
Even better though, the grounds surrounding the house have almost unlimited opportunities for having a great time!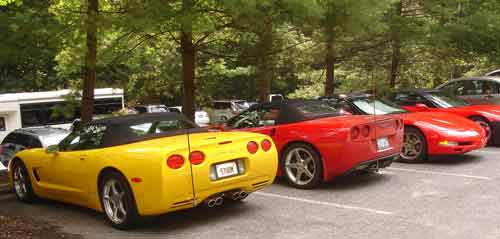 In case you don't believe me that guys would enjoy visiting Biltmore, check out the photo above of a Corvette group (there were at least as many in the row in back of me too). Additionally, there were many groups of guys on motorcycles. Part of the appeal may be also that Asheville is right in the heart of some great mountain driving roads.
Land Rover Driving School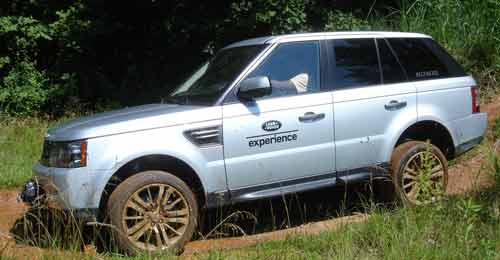 While George Vanderbilt obviously wasn't running around in a Land Rover, this modern opportunity is one you shouldn't miss. Our driver took us up hills, through mud holes, and pushed the Land Rover to angles I didn't think possible.
Outdoor Adventures

Virtually anything you could possibly want to do can be done on the grounds of the Biltmore (or a short drive away).
These adventures include: fly fishing, float trips, kayaking, hiking, segway tours, mountain biking, walking, and they even have a sporting clays range on the estate grounds.
With 8,000 acres to play in, there is something for everyone. Plus, there is even more just minutes away in either Asheville or Haywood County, NC, including mining, great driving roads, motorcycle museums, and even more fly fishing!
Wine Tasting and Dining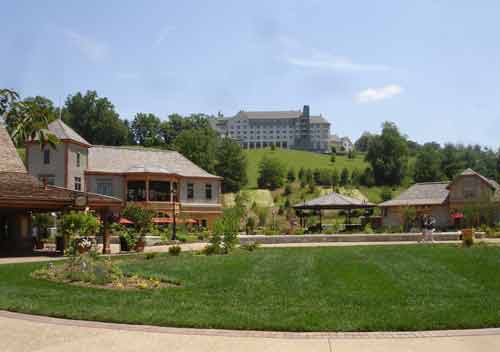 After biking around the estate, you have probably worked up quite an appetite. Luckily there are plenty of dining options available at Biltmore and there is even a winery where you can enjoy free tastings before or after dinner.
Antler Hill Village is the latest addition to the Biltmore dining options. It houses a variety of different restaurants from sandwiches to steaks and the new tasting room and gift shop.
There are also dining options at the Inn on Biltmore Estate and I am told they have a fantastic buffet breakfast there.
Lodging: Inn on Biltmore Estate, or Private Cottage with Chef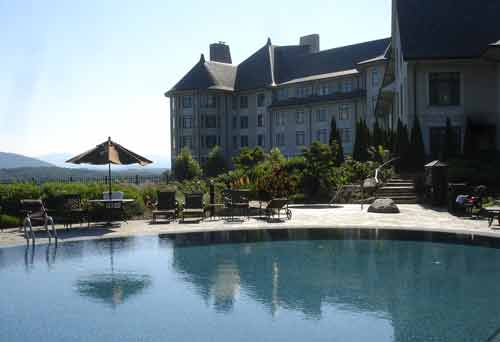 There are many places to stay when you visit the Biltmore Estate. Lots of hotels offer Biltmore Estate packages, but on the estate itself, there are two great options. The first is the Inn on Biltmore Estate. This is pretty much what you would expect - a nice hotel with FANTASTIC staff, a great pool, and great restaurants. The rooms are huge and perfect size for a group of guys.
If you are looking for something a little more fancy and luxurious ... an option that many rock stars and celebrities have enjoyed when they visit ... you might want to think about reserving the private guest cottage. Pricing is about $2,000 per night, or $2,800 per night for the full American plan (includes all meals).
Asheville Night Life
As I said above, one of the best things about Biltmore is that it is located in Asheville. We'll be doing another article about all the awesome things in town later, but AVL is a rockin' place with 10 microbreweries, live music, art, fun (and sometimes crazy) people. Plus, the LaZoom tour is not to be missed either!