I love taking classic items and kicking them up a notch (or three?). One of my favorite lunches to make is a classic grilled ham and cheese. While there's nothing wrong with simply throwing some random ham and cheese slices between pieces of bread and grilling it – we can do better than that! When you want the ultimate grilled cheese experience, it's important to focus on the best ingredients available and that's why this one stars Eckrich Black Forest Ham.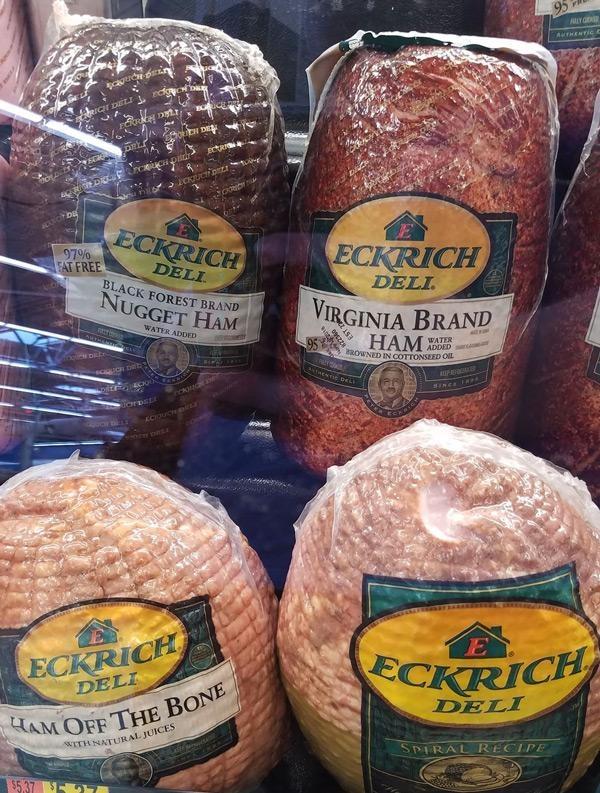 Eckrich Deli Meat is available at Walmart deli counters nationwide. It is affordable, very high quality, and tastes great. Eckrich uses no meat by-products, or artificial flavors or colors. Eckrich deli meats are gluten-free, too. Eckrich deli meats are freshly sliced from the deli counter and are so versatile I can use it for any meal occasion. It's all about the ham. That means that it looks great on a sandwich as well as tasting great as a snack while you are making it!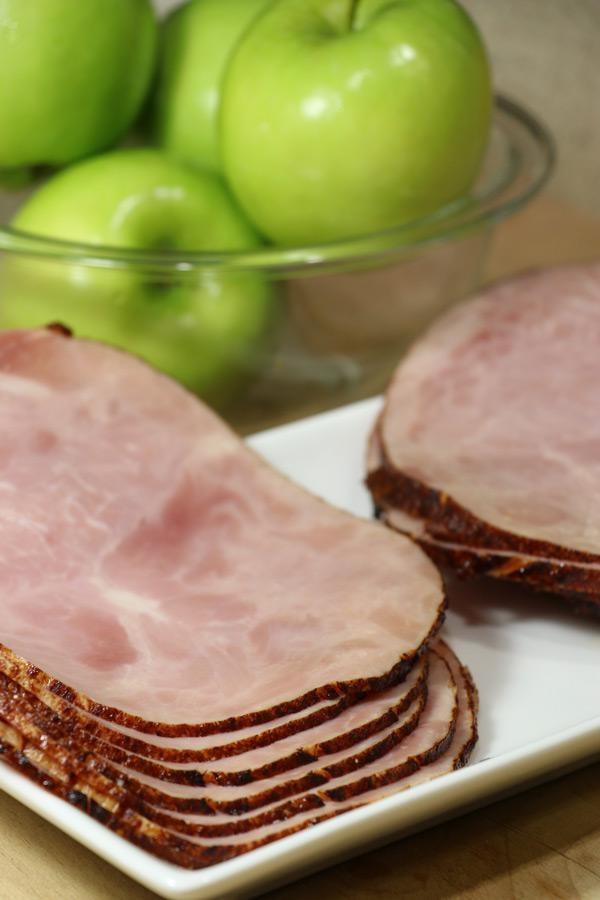 Deciding Which Ham To Select For Your Sandwich
Here's the hardest part of the recipe – deciding which Eckrich Ham you should use for the recipe. For this one, we chose two different types of ham from Eckrich to show you how ham can make a difference in your sandwich construction process.
The Eckrich Deli Meat line has a bunch of different varieties but we tested two of them out – Eckrich Virginia Baked Ham and Eckrich Black Forest Ham. In reality, both hams would taste great on the sandwich but I prefer the Eckrich Black Forest Ham since it has a darker skin from the dry curing, and is less sweet than the Eckrich Virginia Baked Ham with more smokey authentic Black Forest flavor.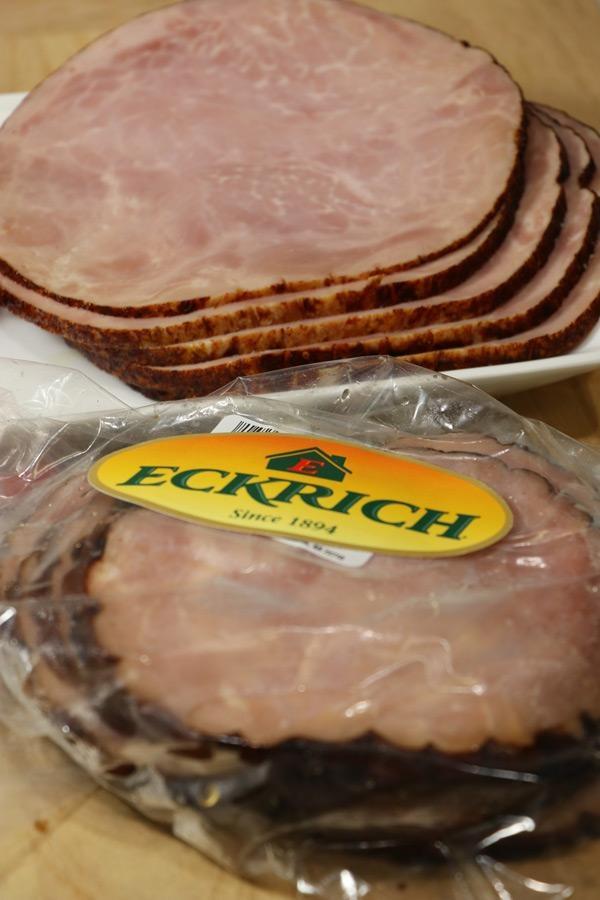 Also, compared to the Eckrich Virginia Baked Ham, the Eckrich Black Forest Ham was a round shape that I thought looked nicer in the sandwich when folded over.
Luckily, we have plenty left over after making the sandwiches so I used the Eckrich Virginia Baked Ham on top of a salad later that night. Check out Eckrich's website for more great quick and easy recipes.
How to Make Your Ultimate Ham, Apple, and Cheddar Grilled Cheese
The key here is to keep it simple. Starting with the Eckrich Black Forest Ham, we're going to focus on high-quality ingredients throughout the recipe so you can enjoy the process of making the meal as much as you will savor the experience of eating it.
Proportions here are for one sandwich, but it scales easily from one person to 10. If you want to make this recipe to serve 4, just multiply the recipe by 4, and remember basic sandwich math.
Ingredients:
1 slice Eckrich Black Forest Ham, sliced thick
4 oz Sharp Cheddar Cheese
1 Granny Smith Apple
2 3/4" Hand-cut slices from a Sourdough Bread Boule
1:1 ratio of Country Dijon Mustard to Natural Honey from the United States
"as needed" Salted Sweet Cream Butter
Preparation:
Slice the bread to about ¾ inch thick and then cut that bread in half. (Adjust this step if you've selected a pre-sliced sourdough or one that is in a loaf instead of a boul.)
Heat up a cast iron skillet and place butter in it.
Once the skillet is hot, swirl the butter around so it fully coats the pan and then place two slices of bread in there.
If you have hand-sliced bread where one side is larger than the other, make sure to place the big side down first since this will be the inside of your sandwich.
Once the bread has soaked up some butter and has a nice toast to it, flip the bread over and layer apple slices and cheddar cheese slices on the bottom and top, with a piece of Eckrich Ham folded over in the middle. Spoon some of the honey Dijon sauce into the middle of the sandwich as well.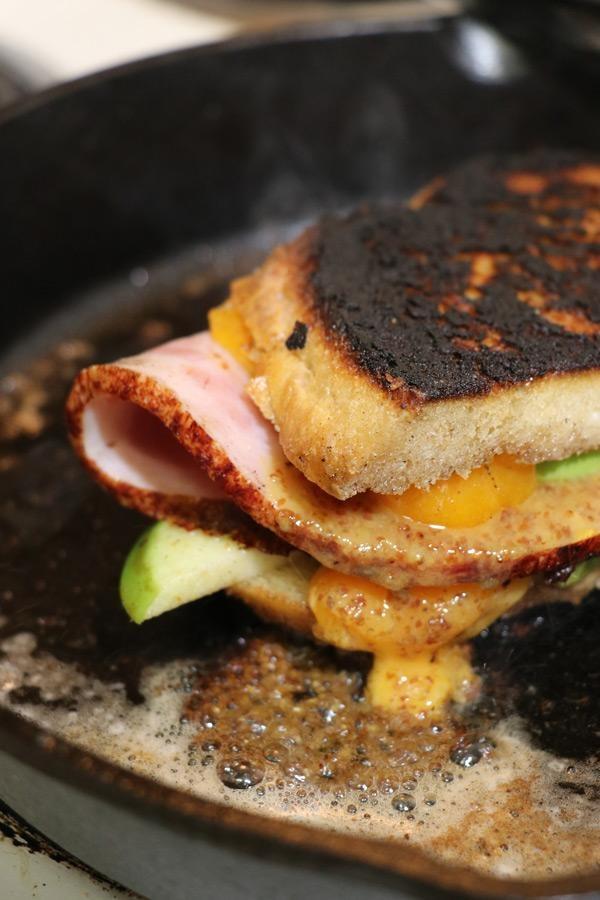 Continue to grill the sandwich until cheese has begun to melt, and the ham and apples are hot. Add extra butter if you need it and make sure to flip the sandwich so that both sides are evenly grilled.
I use a combination of cooking tongs and spatula to avoid the sandwich falling apart!
You may also want to use that spatula to press down so that all the flavors come together.
Once the sandwich is done cooking, then it's ready to serve.
You can use the remaining Honey Dijon sauce to dip the sandwich as well as for apple slices that work great as a side dish.