Looking for a last minute Father's Day gift or just an everyday gift for a guy you care about? We're not that complicated to shop for. While my wife laughed and said, "do guys really want that as a gift?" when it arived, I looked fondly at the box and thought, Damn Man this is a great gift. It just goes to show that sometimes clichés can be true. While not all guys will love sausage and nuts ... chances are the guy you are shopping for will.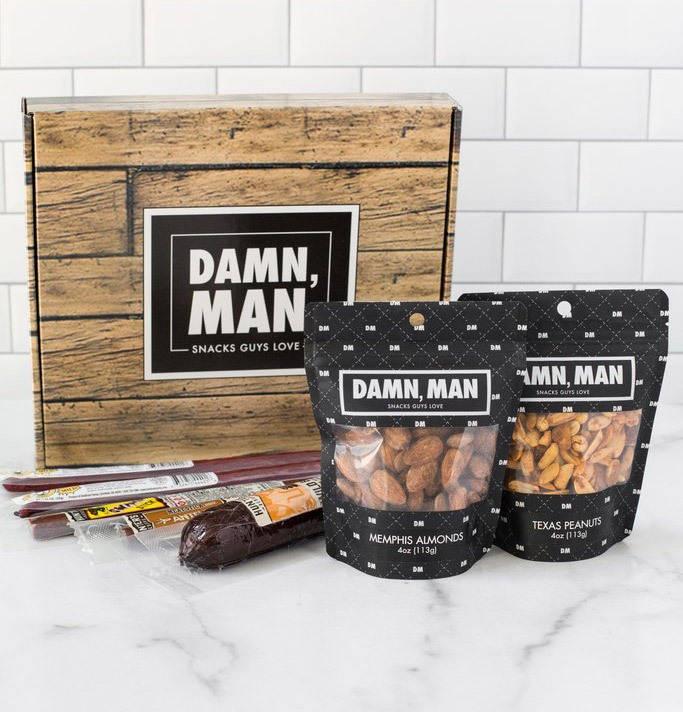 One thing that is sort of odd about this is that it comes from a gifting company, Sugar Plum Chocolates who's name honestly don't sound like the place you'd go for a guy's gift. Don't let that dissuade you though, this Nuts & Exotic Meats Box came in the box you see above and was as masculine as anything you could possibly imagine. At $49.95 it is also priced right.
Inside the box, you'll find the perfect combo of salty snacks that can be enjoyed slowly or scarfed down during a road trip or marathon gaming session.
First up is a wild boar summer sausage, which fuses the traditional sweet and tangy taste of summer sausage which the succulent, rich, and nutty taste of well-ironed wild boar to craft a unique gustatory experience, the memories of which continually call to be freshly experienced.
From there they've included two beef sticks because, after all, what meat sampler could be considered legit without some well-cured beef? To round the unconventional-yet-remarkable tour off they've included one stick each of a pork-and-antelope blend that highlights the mild and venison-esque flavor and a pork-and-alligator blend that has a mild, quail-like flavor that is considered to be quite the delicacy.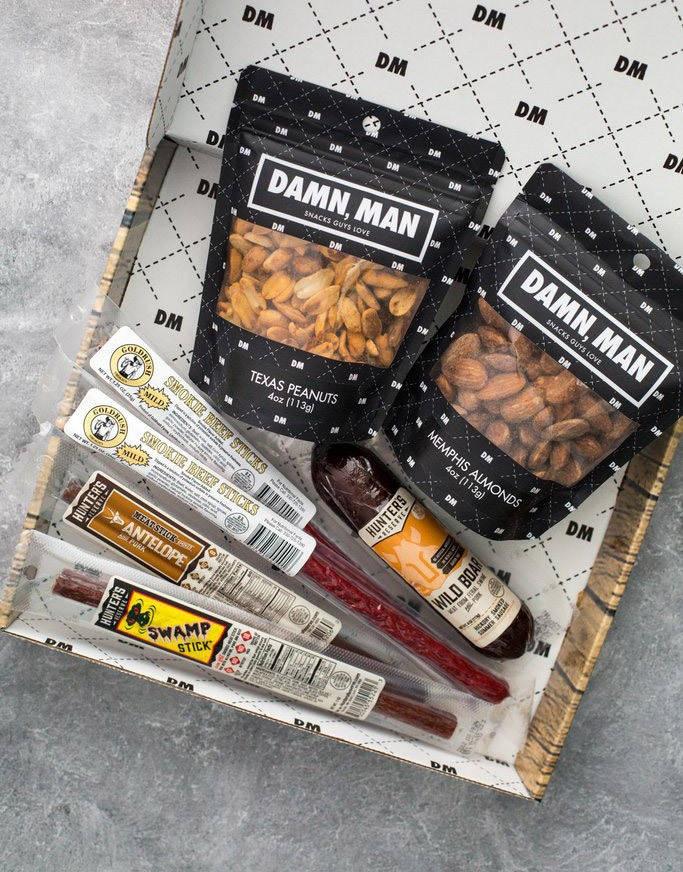 To pair with these meats they've included two 4oz portions of our hand-crafted and kettle-cooked nuts from our collection of flavors inspired by some of America's most well-known regional BBQ styles. Featured here are our Memphis BBQ almonds, which highlight the characteristically heavy hickory and fruitwood smoke and sweet & tangy flavors of Memphis-style BBQ. Closing out the set are our Texas BBQ peanuts, which place the rugged flavors of mesquite and oak smoke front and center to get a taste so potent you'd be keeping your eye out for a rogue steer stampede!
Their tag line is Damn, Man Snacks Guys Love and that's pretty darn accurate. While there's probably a few guys out there that can't do salty snacks for health reasons, pretty much the rest of us would love to see this gift box presented to us by someone we care about.
You can buy this and other edible gift ideas over at Sugar Plum.