A short time ago, the concept of a "luxury sedan" from a Korean manufacturer would have been something to scoff at but Hyundai has clearly worked hard to set new standards for quality, comfort, design, technology, and elements of luxury in it's mainstream products over the past several years. As a fan of their entire product line, the one piece I hadn't touched was the Hyundai Genesis sedan ... until now!
Fundamentally, if you love the Sonata but have ever thought, "I wonder what it would be like if you took everything and made it better?", that's what you'll find here in the Hyundai Genesis sedan. It's got more space, more technology, and a fantastic interior that features real wood and aluminum. Even better is that with a starting price of just under $40,000 it's a surprisingly affordable way to enter the luxury market compared to more well known brands from Germany and Detroit.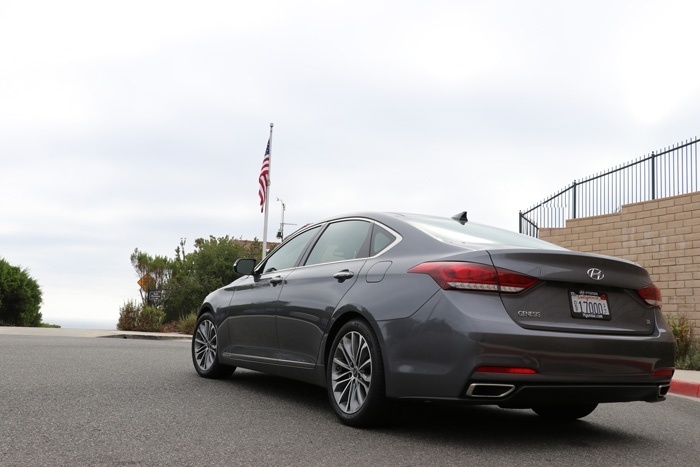 One thing you'll notice if you are familiar with the past few generations of Hyundai design is that it's less "Korean". The radical lines that frankly I liked have been blurred compared to previous models. What you are left with though is a beautiful car that has great lines that while perhaps less distinctive are still clearly Hyundai but project luxury and status.
At 311 HP for the 3.8L V6 that we reviewed, it's not the fastest luxury sedan available. However, compared to it's peers including Mercedes E350, Lexus GS 350, and BMW 535i it has more power despite being $10,000 lower in price. Again, though - this is not intended to be a sports sedan but rather a comfortable everyday driver. It has more than enough power for anything that we threw at it while driving around San Diego and a quick road trip to LA. Gas mileage is rated at 18/29, so that was a shocker coming from the Sonata Plugin Hybrid that we reviewed prior to the Genesis. Again though, these are still good numbers for a large car designed for luxury and comfort.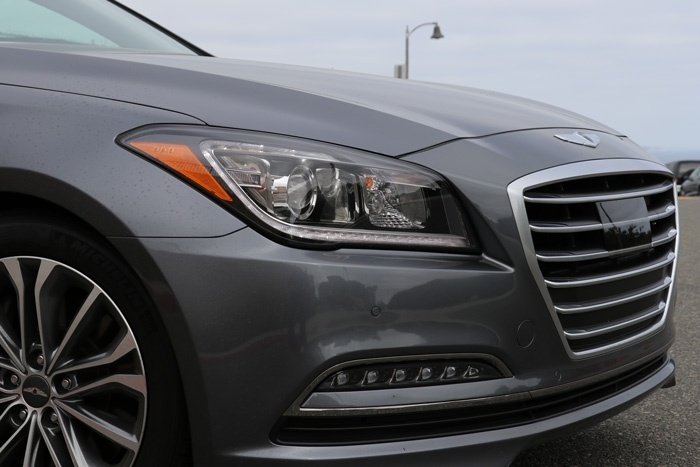 This is especially evident with the Genesis name badge that has always stood out from the rest of the lineup but now is the start of an entire product line similar to Lexus vs Toyota. While I'm excitedly waiting what they have in store, we should see additional models released under the Genesis badge later this year.
As you would expect from Hyundai, the Genesis is loaded with technology including Smart Cruise, Automatic Emergency Braking, Lane Keep Assist, Electronic Parking Brake, High Beam Assist, Front and Rear Parking Sensors, Power Rear Sunshade, Power Trunk Lid, and more. It also sounds great with a 9.2." touch screen entertainment center connected to a 17-speaker surround sound system.
While the wood dashboard and other premium materials help define Genesis, it's the little design characteristics that set it apart from its sisters. For instance, the armrest cubby opens in the middle so that things stored inside are more accessible.
Seats are one of the sometimes overlooked features in a car but I was impressed that Genesis didn't skimp here with front and rear heated seats and a 12-way adjustable driver seat with multiple reserved settings. This means that when Heather was driving she could simply press "1" and the car adjusted to her comfort settings rather than having to tweak everything individually each time.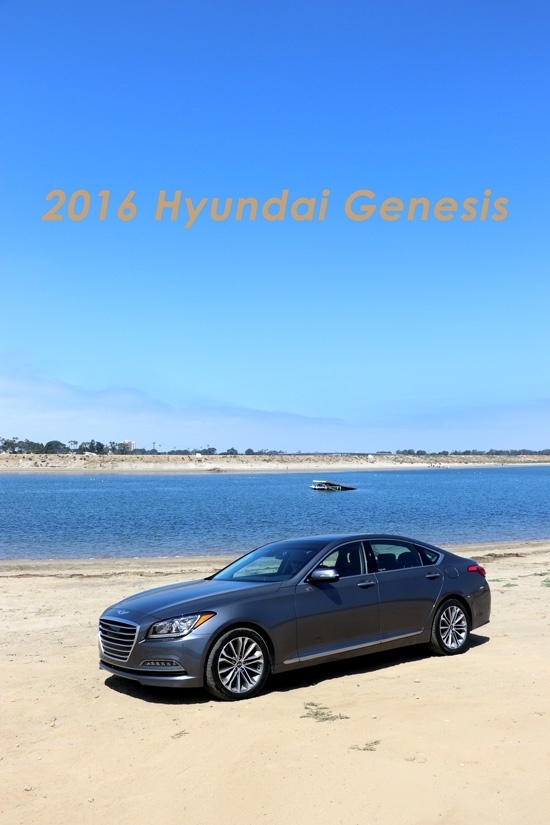 I'm thrilled with how far Hyundai has come in just a few years. As the second generation Genesis (second generation began with the 2015 model year), they have taken a concept and refined it to the point where it should be on the list for anyone looking for a great luxury car but just can't stomach the prices that German luxury cars still command. With that extra cash you save, pour it into upgrading from the base to the Ultimate Package with all the goodies or use it to take an amazing road trip this summer. The 2016 Genesis sedan will be sure to get you there in comfort and style!