When traveling, there's little that I hate more than running out of power. Despite strides made by hotels, airports, and trains - a place to charge devices still seems illusive. That's why I was so excited to check out the latest Portable Power Outlet that the folks at myCharge sent me to review. It has nearly everything you could need including a huge 20,000 mha battery, AC Power outlet, 2 USB A and 1 USB C port.
While I primarily use my power banks while traveling, it's also something that is essential for camping and tailgating as well. No matter where you guy, one thing is always the same - you can make some interesting friends by having a spare plug to share. This is especially true for a guys weekend where you might need to charge up a portable speaker (via AC adapter), a cell phone, and a tablet. Nobody wants the party to end just because the speaker ran out of juice!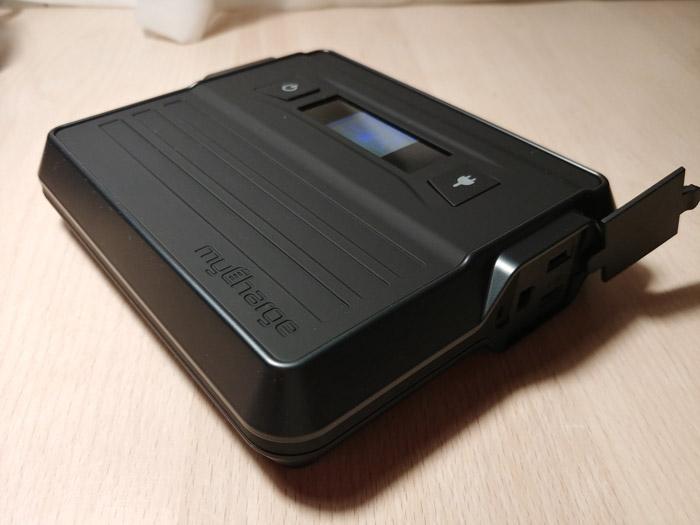 Prior to this year though, most power banks that I had looked at did not include a USB C plug - much less an AC plug. They were simply designed to provide some extra juice when your phone ran out at a concert or on a long flight. Thankfully this is changing to keep up with the crazy number of devices we are all carrying these days.
myCharge makes a full line of power banks ranging from small portable chargers to this one, their Portable Power Outlet boasting pretty much every feature you'd ever need. At $179 (less on Amazon) for 20,000 mAh, this is a device that is absolutely worth considering.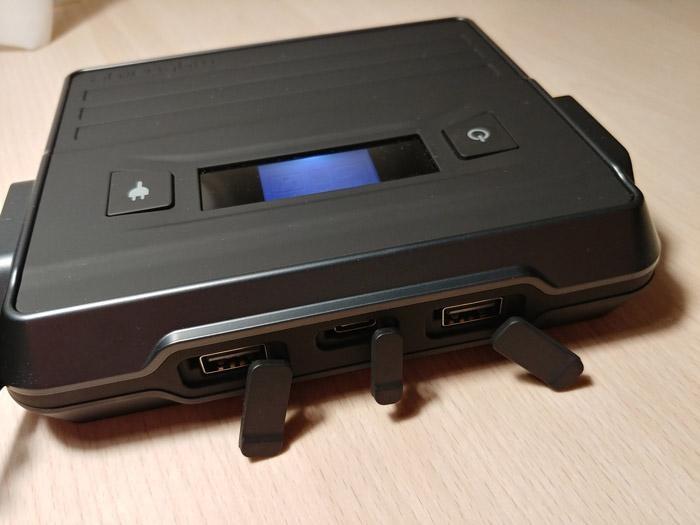 What I Liked About the myCharge Portable Power Outlet
I really liked the chasis that the myCharge Portable Power Outlet comes in. It feels "rugged" enough that it's not going to break or crack easily being left at the bottom of my backpack while traveling. I also liked the fact that it has port covers to protect from sand and other dust.
With 20,000 mAh it has plenty of power to charge up (many) smaller laptops on a long plane ride or keep multiple phones charged over a weekend getaway. While we didn't test it with small appliances or TV's, myCharge says that the 65 watt AC outlet can power a 34" LED TV for up to 4 hours as well. In theory, that would allow you to take a TV camping with you and stream movies or even sporting events!
In addition to the above scenarios, the thing that I really like about having an AC plug is that it allows for charging those devices that don't support USB charging. In my case, the number one offender is my camera battery. While shooting, I can leave the battery cradle connected to the myCharge Portable Power Outlet and make sure that I always have a fresh battery ready to shoot with.
I'm sort of torn about the external charger pack though. While I appreciate the convenience of being able to charge by USB C as some do, having an external power pack does make it charge very quickly. Unfortunately, that means that you need to travel with one more piece of equipment if taking this with you on a long trip.
What I Didn't Like About the myCharge Portable Power Outlet
Overall, I was very impressed with the myCharge Portable Power Outlet from the perspective of something that would fit easily into my carryon bag as well as being a good thing to keep in the car for use at the beach or camping.
While the size (5.0 in x 5.75 in x 1.4 in) and weight (1.05 pounds) may be an obstacle to some, I've been using 20,000+ mAh battery backs for quite a while and gotten used to carrying them with me.
What disapointed me though was that it turns off when the battery it is charging is full. Making sure my devices stay charged on a long flight or overnight in a hotel room is my top use case that I depend on with my current go-to powerbank (Anker PowerCore+ 26800). With the myCharge device it shuts down when full to save battery and protect battery health. I appreciate that, however, it doesn't turn back on and so I found my devices at less than 100% in the morning.
Additionally, you must turn the ports on by selecting the USB or AC plug. If you don't then it won't charge at all. This might seem like a minor nit, but it is still worth noting.
So What's The Bottom Line?
Ultimately, it is a very good power bank that provides options that others don't. If you are looking for a high capacity device with the flexibility of USB A, USB C, and a three-prong AC plug then the myCharge Portable Power Outlet is a good one to consider.
For more information about the myCharge Portable Outlet, please visit their website.
Or you can purchase it on Amazon.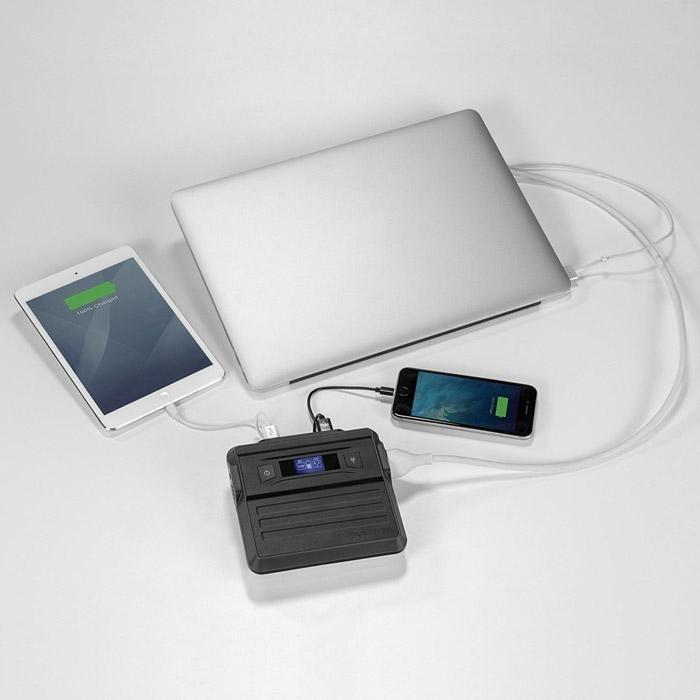 myCharge Portable Outlet Technology
Smart-sense: ensures complete device compatibility
Hyper-charge: ultra-fast charging of your devices; up to 65% faster than competitors
Power-stay: maintains battery power for up to 1 year
Max-power: maximum power transfer from powerbank to device
High-density battery: the smallest and lightest powerbank
Safe-cell: provides the highest level of battery safety
Rapid-recharge: powerbank recharges up to 50% faster than competitors
Pass-Through Charging: will charge the powerbank and connected device simultaneously
myCharge Portable Outlet Specs
Battery: 20000mAh Lithium Ion
Product Dimensions: 5.0 in x 5.75 in x 1.4 in
Product Weight: 1.05 lbs.
Input: 20V
Total Output: AC 110V 65W
Output by Port
USB-C Port: 3.0A
USB-A Port #1: 2.4A
USB-A Port #2: 2.4A
Total Shared: 3.4A
AC Port: 65W