While most "smart home" gadgets are designed simply to make your life easier or just more fun, some can actually justify the expense by saving you money. That's the case with the smart thermostat category, so I was thrilled to spend some time reviewing the WiserAir smart thermostat from Schneider Electric.
Wiser Air is one of the most advanced smart thermostats on the market today but even from just a purely aesthetic perspective it's a big step up from the unit it replaced and pretty much every other one I've seen. The first thing you'll notice is that it has very clean lines that frame a very nice display. However, it's the little things in the design that make this that much more special. For instance, the display is motion sensitive so it turns off when there is no motion in the room, so you can save electricity. Second is that with just a glance you can tell what mode it is in from the glow around the back - blue for cool, red for heat, and green when Eco IQ™ is working to save you money. Additionally, it even serves as a weather station by displaying the forecast directly on the display!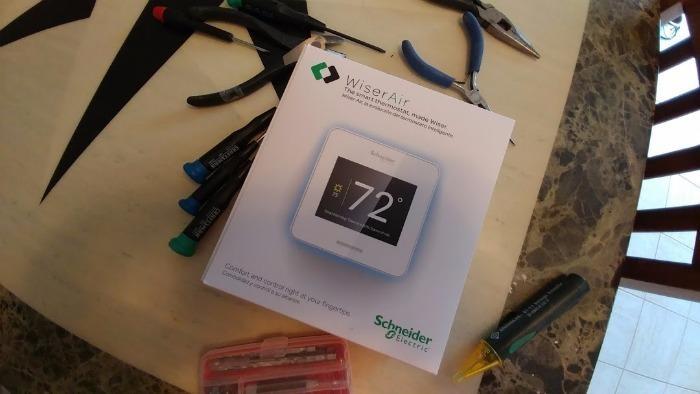 Installing the WiserAir Smart Thermostat:
For us, installation time was about an hour and a half (though I'm sure you can do it faster!) It was a very simple installation and setup do to. You don't have to be an electrician, but you should have some tools handy including an electric screwdriver, a level, and wire trimmers. Depending on how you are installing it, you might also need a drill to lay the pilot hole for the screws.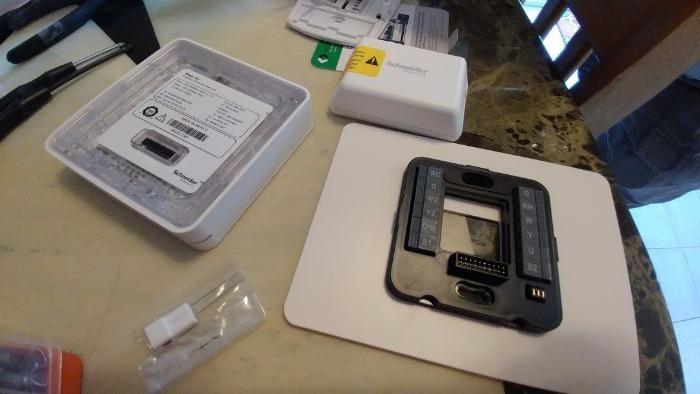 Inside the WiserAir box, you'll find the smart thermostat unit itself and the backplate + wire harness. For most of you, this is all you will need to install the unit. For others that want to place your thermostat in a different room or a different position, Schneider Electric also included a wire extender which was very nice of them! There's also a jumper that may be required for some installs, but not on ours.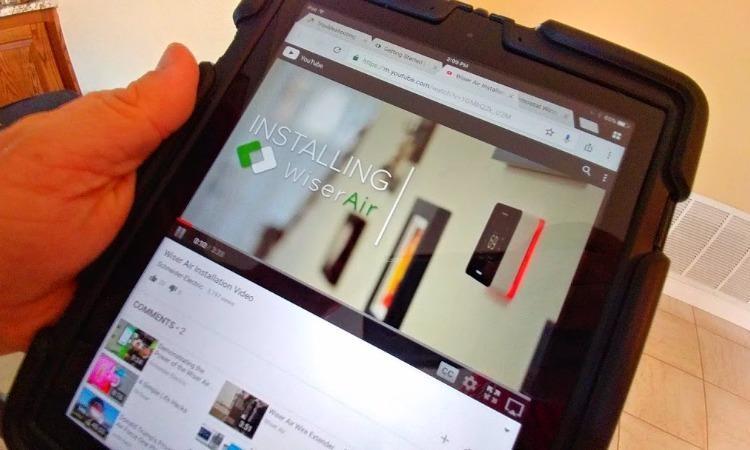 I was really impressed with the instructions provided by Schneider Electric, but sometimes it's helpful to have a video and this is ultimately what we used to help guide our installation process.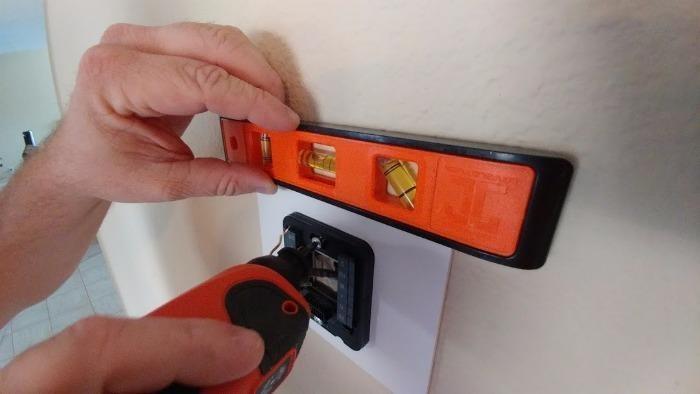 After removing the previous thermostat unit, it was time to install the WiserAir unit. Make sure to use your level to ensure the backplate is level. While minor misalignment aren't a big deal with most thermostats, since this has a big display, you'll want to make sure that it is perfectly level or it will drive you nuts.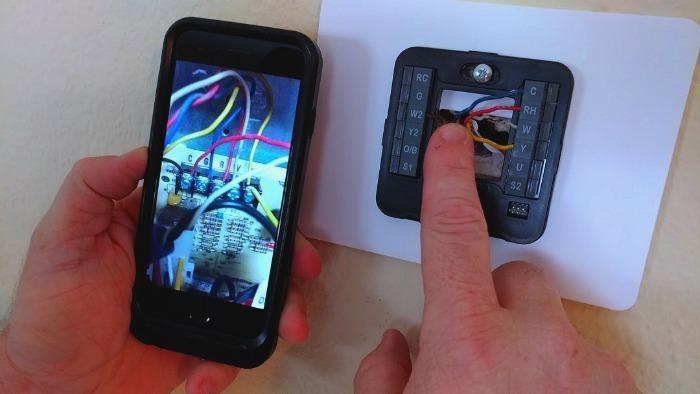 One of the big time consuming errors we made was not recording exactly what wires when to which terminals since we assumed that the person before us had the correct colored wires. Unfortuantely that wasn't entirely sure, so I'd recomend that when you go to your HVAC system panel to turn off the breaker that you also take a photo of what wires are connected to which terminals. Then, when you check the harness on the wall, you'll be sure to have the correct wiring.
During this process, one thing I really appreciated about the Wiser Air unit was that instead of screws requiring us to use a screwdriver, that each of the terminals was a clip that was super easy to attach the wire to.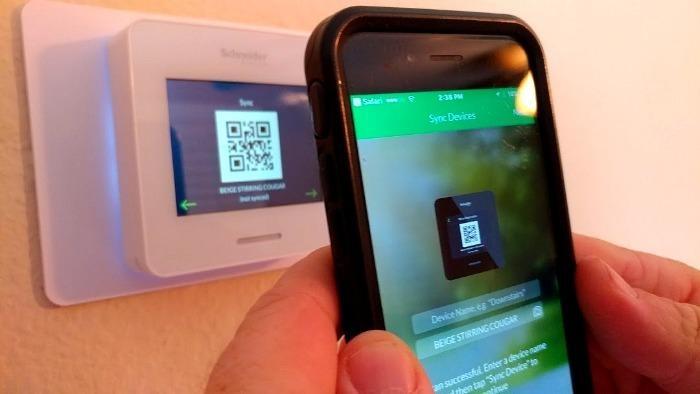 With all of the wires connected properly the WiserAir unit booted up quickly and prompted us to set up the wifi connection then sync our phones to it via a QR code reader in the mobile app (available for not just iOS and Android but also for Windows!). In fact, currently WiserAir is the only smart thermostat with a Windows App, which means that it can work not just on a Windows phone but also on Surface or a Windows 10 device.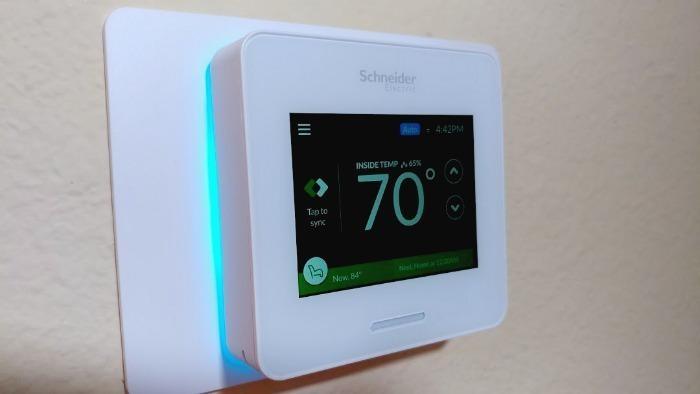 With the unit fully up an working, it was time to play around with it a bit.
One of the coolest features of Wiser Air is Eco IQ which is a self learning mode where you just tell the thermostat if you are hot or cold and it optimizes for your comfort based on various factors including your input ... but also humidity, weather, and your home's thermal profile.
Of course, you can always set it to a constant 72 degrees if you wish and then use "Comfort Boost" to get instant cooling or heating without changing your schedule or learning algorithms.
However, since this is connected to your phone, possibly the coolest feature is being able to control it remotely. For instance, in the summer you might leave it at 80 degrees but then want it to drop to 65 when you come home. Since traffic is different every day, you can set the temperature before you leave so that it is nice and cool by the time you come home!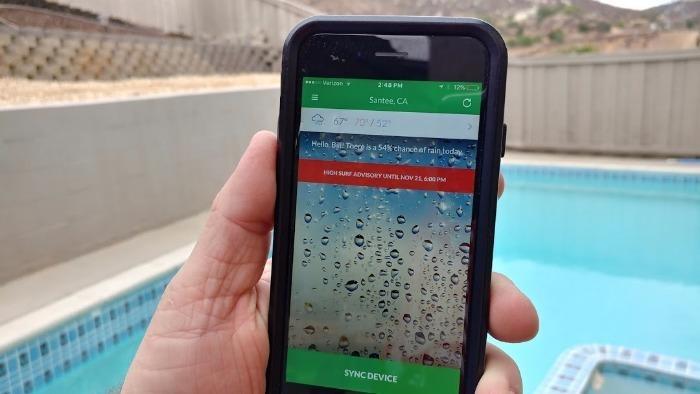 There are a lot of smart home devices on the market today and most of them are either started by hardware companies that "also do" software. Or the reverse. This generally means the experience doesn't really feel complete. However, with WiserAir I was extremely impressed that not only was the hardware beautifully designed but the software was great as well. Plus, not only that but it works really well from the service side.
What many people don't know is that this isn't Schneider Electric's first rodeo as far as weather and temperature monitoring goes. They are a global leader in energy management who's technologies are also used by professional sports teams, utility companies, airlines, and other large scale industrial implementations to help make critical weather-related decisions. Now you have that same power in your hand!
You can purchase Wiser Air at Amazon.com, HomeDepot.com, the Microsoft Store, New Egg or BestBuy.com.