It's no secret that the auto industry is extremely competitive and that American tastes are shifting away from mid-sized sedans to SUVs like the Mazda MX-5, Honda CRV, Toyota Rav4, and Jeep Cherokee. What is interesting to me is how similar each of these cars is on paper and price - yet so different in driving experience. It made me step back a bit and think about how I experience cars since rarely do I get a chance to actually compare vehicles directly. Typically we're provided a top of the line model and asked to share our thoughts on it. Through a bit of luck and planning though, I managed to drive all four of these this year and take the opportunity to compare not just their bullet-ed talking points - but what it actually means to someone shopping for the right SUV for their lifestyle.
In all fairness, I've also had great experiences in the past with previous models of both the Hyundai Tucson and the Kia Sportage and I've enjoyed driving those as well. They are technically great vehicles as you'd expect in this space. The following is not intended as a "review" but more of a testament to the importance of shopping for your lifestyle and not just on reviews. What's right for me may not be right for you and while I love the looks of the CX-5, others might prefer the Rav4 more. The reality is that ALL of the cars discussed in this article are great options but each has their own strengths and weaknesses too.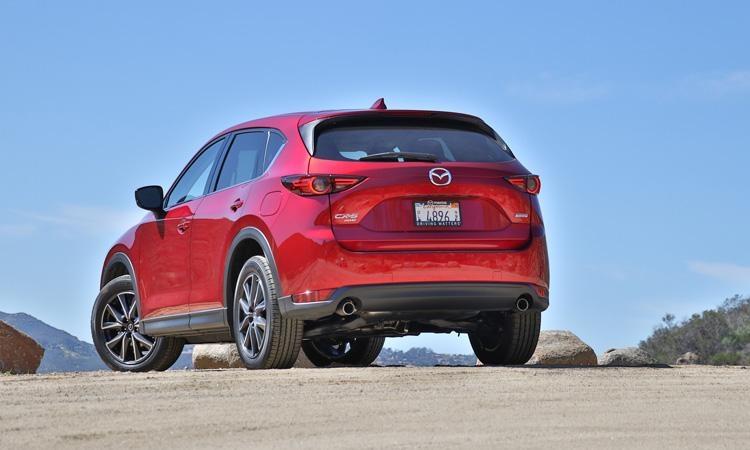 Mazda CX-5 Grand Touring AWD
This is currently my absolutely favorite vehicle in the small SUV space. I won't hold back my feelings about Mazda, they have managed to produce an extraordinary vehicle with fantastically appealing looks that has a great interior, fantastic technology, drives great, and while it has a premium price isn't outrageous. The current 2017 model year is a complete refresh and I love the attention to detail that they have added by making it extremely quiet. Additionally, one of the more interesting enhancements is the increase in opening angle for the rear doors. While this is something you might not notice in a quick test drive, I'm sure you have struggled with placing a large box in the rear seat at one time or another. Plus there are other great features for the back seat such as the fact that they are heated and can also recline.
If you are looking for a great CUV / SUV for use primarily on paved roads then this is hands down my top pick right now.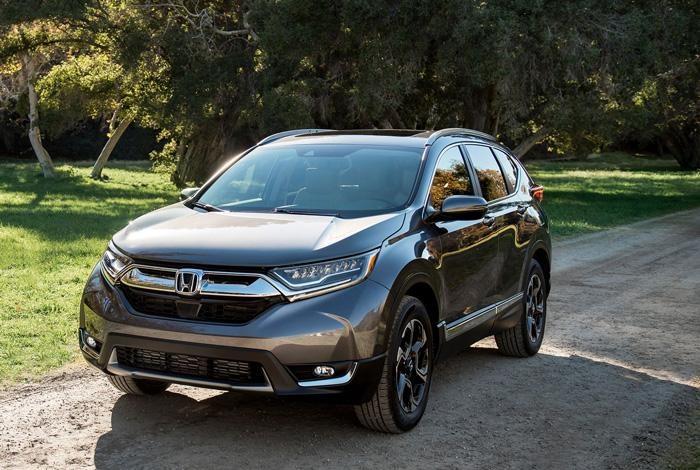 Honda CR-V Touring AWD
I drove the Honda CR-V the least among these competitors during a quick out and back trip overnight trip earlier this spring. However, I wanted to include it since even just that little taste was a great experience. While it feels sporty, some may not like the CVT transmission though since while it can make shifting smoother (because there is no shifting) it does feel less "sporty" as a result. However, it does have the largest engine of it's competitors and a fantastic interior as well as having the best cargo space in it's class. Additionally there is a great safety technology package that comes standard with the upper-level trims.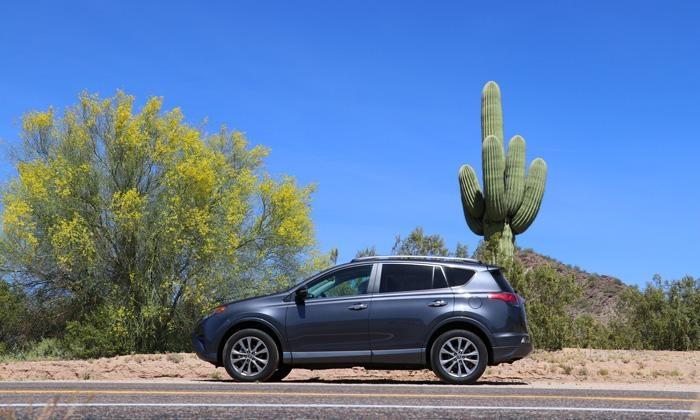 Toyota Rav4 Platinum AWD
I'll be honest here, I was disappointed initially when I drove Toyota's Rav4. I'm a bit biased because Toyota was always "my parents' car brand" and it has a reputation of being a bit conservative. The current Rav4 is mid-cycle and so it frankly isn't as sexy as the CX-5 and frankly it doesn't really hit top marks in any of the areas I look for. However, it was a good solid car that is well rounded and has a great set of standard safety technology features too. What I discovered after a few days of driving it though was that it is incredibly solid, with intuitive design and stuff just worked. While that is incredibly subjective - so is your experience in shopping for a new SUV and that's why it is important to really spend time exploring them and not be swayed by a single marketing spec.
One wildcard here is that while the standard Rav4 Platinum AWD version suffers from a low gas mileage rating, with the Hybrid Limited Edition you get a huge bump up to 34/30 mpg while still retaining the great cargo space!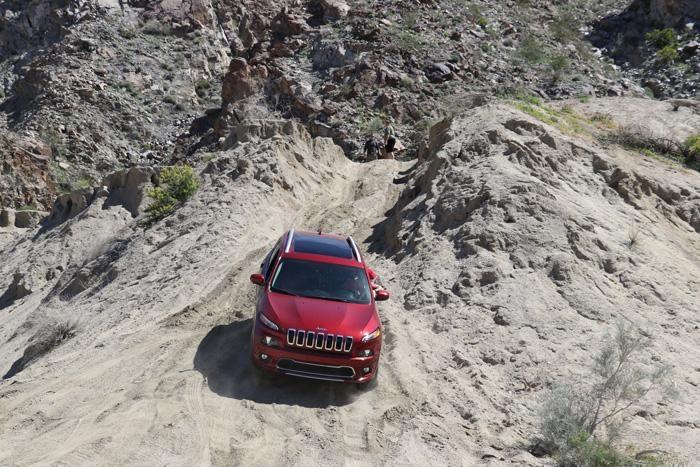 Jeep Cherokee Overland
Last but certainly not last, The Jeep Cherokee is probably my second favorite small SUV on the market right now because of the Cherokee Overland and Trailhawk trims. It is almost a toss-up between this and the the CX-5 in my mind because of it's off road prowess. Frankly speaking, almost none of the small and mid-sized SUVs on the market today are really suited for both on and off road use except the Jeep Cherokee. Before the shift from sedans to SUVs, this segment was dominated by a few beefy SUVs that could take on mud, sand, and snow without trouble since they were closer to trucks than cars. The Jeep Cherokee though has managed to come out with a perfect balance of both worlds while retaining the creature comforts of a car. Unfortunately it suffers from significantly reduced gas mileage and cargo space compared to competitors. This is another one of those situations where you really need to consider how you will be using the vehicle and if hauling stuff around or if you will be spending hours per day commuting then this might not be the right car for you. However, if you want the freedom to go off road on weekends and drive clients around during the week then this is the perfect choice!
For me personally, I don't have kids and I'm looking for something I can take out on trails so the Overland and Trailhawk trims are where it's at for me! Jeep has added Trailhawk trim levels to it's entire line now and the Cherokee becomes a beast capable of tackling trails that the other cars listed above here simply can't. The Overland Trim though does an exceptional job of providing possibly the most luxurious feeling experience while still retaining all but a few features found in the Trailhawk. These include: Tow hooks, Jeep Active Drive Lock, and Selec-Speed Crawl Control, Skid Plates, as well as various styling tweaks.
How to Pick the Right SUV For You ...
With this comparison in mind, it is important that you spend the time thinking about exactly how will YOU use the SUV you are looking to purchase. For instance, ask yourself questions like, "What's most important - gas mileage or capability?" as well as not discounting your own internal judgement about style. This will help you make the correct decision. All of these cars are great vehicles and when you start to price apples to apples the prices also become extremely competitive, so it will come down to which do you like the most.
If you can, ask if the dealership allows extended test drives or loaner units too. In today's market, things are extremely competitive and you'll be surprised what they are willing to offer if you ask nicely and appear to be a serious customer.
Additionally, don't be afraid to ask your friends on social media - but remember that their options will also be highly subjective too.
Finally, make sure to check out a variety of reviews. Some sources are going to be more reliable than others though. One of the big challenges in the industry right now is that many reviews come from NPI (National Press Introduction) events where they fly dozens - or hundreds of media from all over the world to experience a vehicle in the best possible circumstances. They often host the media (including myself sometimes) in fantastic hotels with fabulous food, wine and scenery, then let us loose on a set route that they've designed to showcase the strengths of their new car. As a result, it's almost impossible to write a negative review and it can be a challenge to be objective. As a result, the coverage will be overwhelmingly positive and ultimately that isn't a problem since each media person still brings their own biases. While most reviews focus on the positive, if you read multiple reviews, the various strengths and weaknesses begin to come to the surface. That's why it is critical that you look for multiple review sources - including major media, bloggers, and friends before making a decision. Most bloggers such as myself are more than happy to have a discussion about what they liked or didn't like about the car if you ask us through Facebook, Twitter, or email so feel free to reach out to us that way too!
Ultimately, buying a new car or SUV is intensely personal and there will be compromises. There are few feelings quite like having the salesman hand you the keys and driving a brand new SUV, so take your time and do it right!