Electric cars aren't sexy, they aren't fast enough to have fun with, and they certainly aren't fun to drive - right? WRONG! The folks at Kia should be very proud of the latest iteration of the Kia Soul. While mocked as "that hamster car" the truth is that this is one of the most stylish and fun to drive cars in the world right now. That's not shared by everyone, but it is true for me and at least several million other people who have bought one and helped propel the rapid growth of this once "upstart" auto manufacturer.
To help set the mood for the launch, Kia invited me and a bunch of other bloggers, journalists, and social media influencers to the St. Regis Hotel in beautiful Dana Point, California where they did an amazing job of giving us a chance to live what they called the Kia Cali lifestyle - if only for a couple days.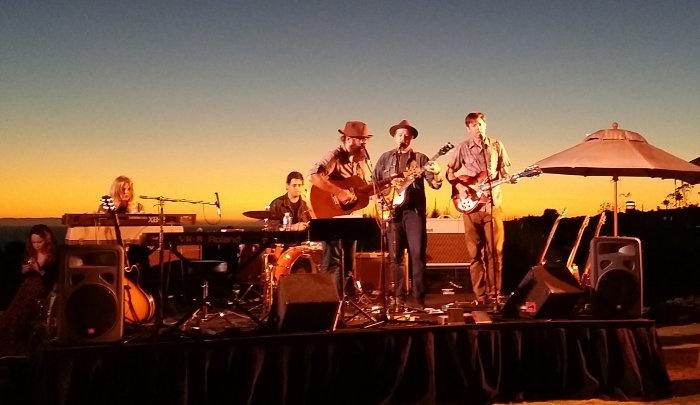 The event kicked off with a gourmet food truck party featuring entertainment by a great California band while we watched the sunset over the Pacific Ocean and then we watched Chef in a mock of a drive-in theater while noshing on cupcakes from another food truck.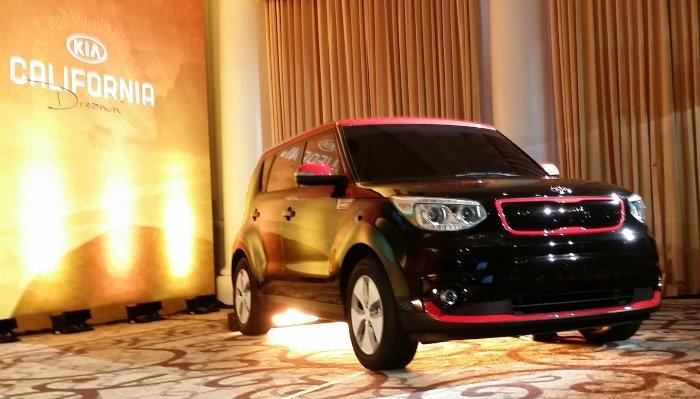 The next morning it was time to get down to business as Kia introduced the new 2015 Soul EV to us by teasing us with one of the sexiest looking Soul's I have seen - sadly though the ones we drove were not as hot looking.
Perhaps the most important statistic for an electric car is the range - Soul EV has a range of 93 miles, with recharge time as little as 33 minutes to reach 80 percent charge using the 50 Kw-output fast charger. Using the 240v outlet, it will take 5 hours, so good for plugging in at work or overnight at home.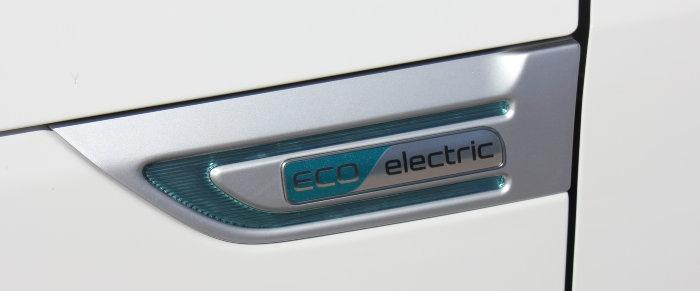 The front wheel drive Soul EV is powered by a 109-hp electric motor, that produces 210 lb-ft of instant torque with 0-60 speed of 12 seconds. We did however discover while testing its limits that while the Soul is quick and responsive that it has been electronically limited to a top speed of 90 mph which was was initially disappointing but better than ruining the motor! In practice, this is not a big deal since you really should never be going that fast anyhow!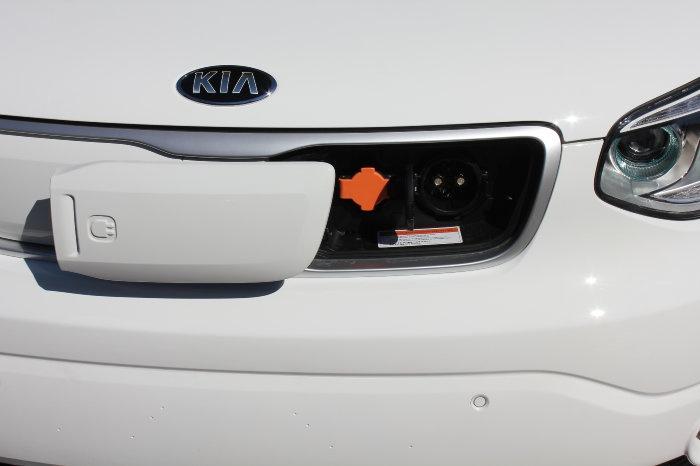 The Soul EV though is more than just the engine!
Inside, the car uses 52.7 pounds of bio-based organic content in the interior and cellulose derived plastic in the door panels, seat trim, roof pillars, and carpeting. In fact, it is the first ever vehicle to receive the UL Environment recognition.
Standard amenities include the eight-inch navigation screen, rear camera display, bluetooth hands free system, power driver's seat, cruise control and a heat pump system with individual ventilation zones, scheduled ventilation, and air intake control. The schedule ventilation system will actually let you cool the car while still connected to the charging station, before you turn the car on. This significantly reduces the drain on the battery while driving since it will be maintaining the temperature vs going full blast trying to cool things down.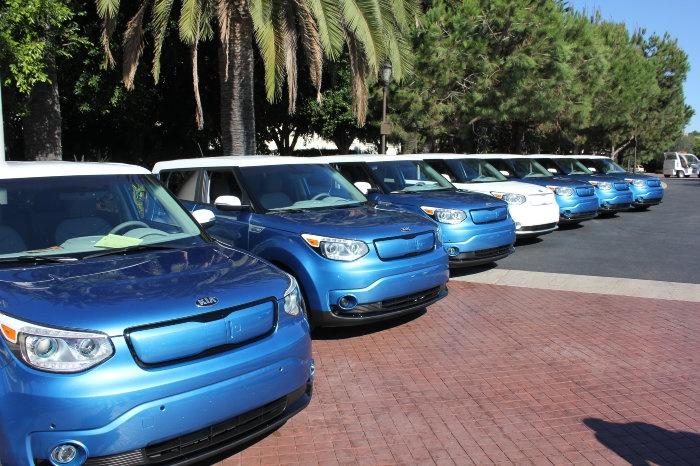 Then it was time to drive! While the blue and white design looks nice, Phil from Gunaxin and I were stuck with what essentially looks like a Stormtrooper Helmet on wheels.
We both agreed though that in hot climates there is a benefit to having an all white car but sadly just didn't have the curb appeal that it's black and red brother at the press conference did.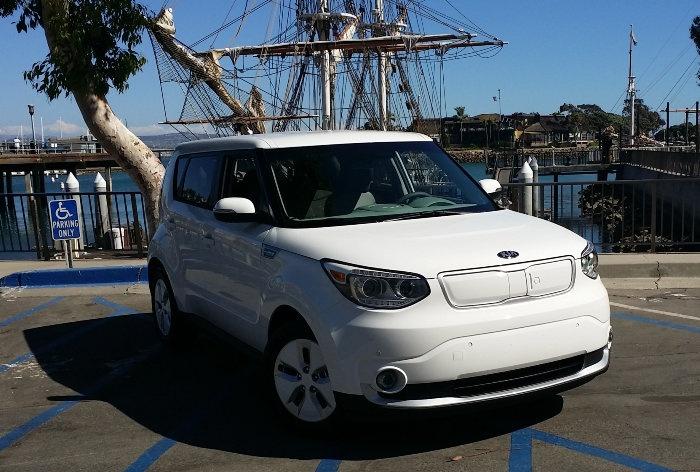 While stereotypical, the Kia Cali lifestyle consists not only of electric cars and food trucks but salads at restaurants overlooking the ocean.
We'll roll with that since it was a beautiful view and a delicious salad too!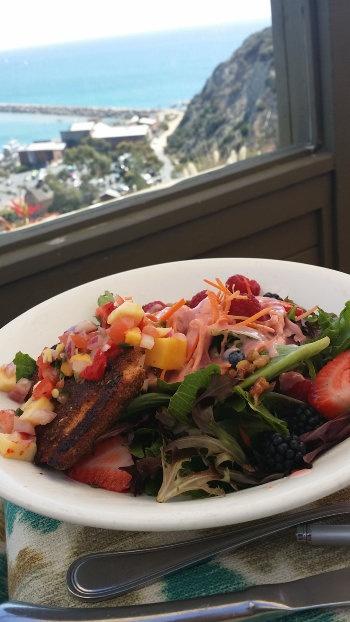 Then we set off to do some real world driving and see how the Soul EV stacks up in every-day use.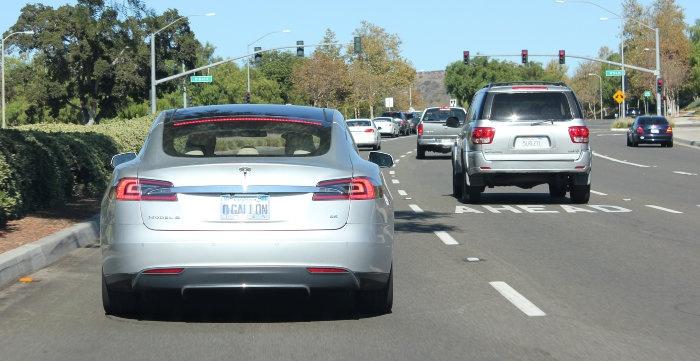 The first thing owners of the Soul EV will notice is that unlike a Prius or Tesla (much less those "golf cart" EVs), the Soul EV feels like a real car with no compromises.
That isn't to say that those aren't great cars as well but just that the Soul can be looked at as a "car" and not just an "electric car". While driving around Southern California we also came across numerous Teslas and while these are amazing cars it is nice to know that the Soul EV has almost as long of a range as it does for a fraction of the cost!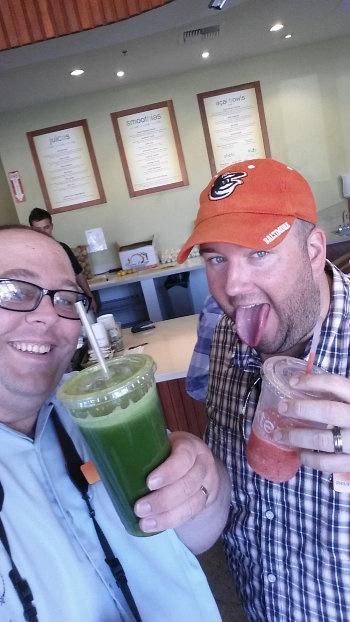 Our Kia Cali tour continued with a stop at Nekter Juices - where we got some refreshments!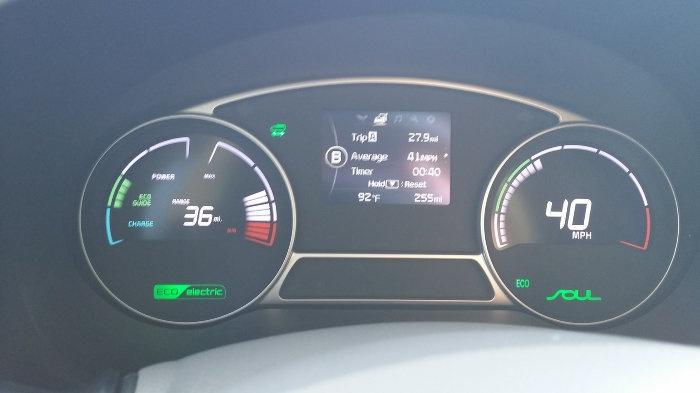 In our real world conditions during the Soul EV review, it was remarkable that the car was super quiet, no electric whine as some other EV's have and I had no problem passing other cars on the highway, accelerating on entrance ramps, or going up hills.
Additionally, while the air conditioner uses a highly energy efficient heat pump design, it was remarkable to note that even in 92 degree heat it had no problem staying cool for us.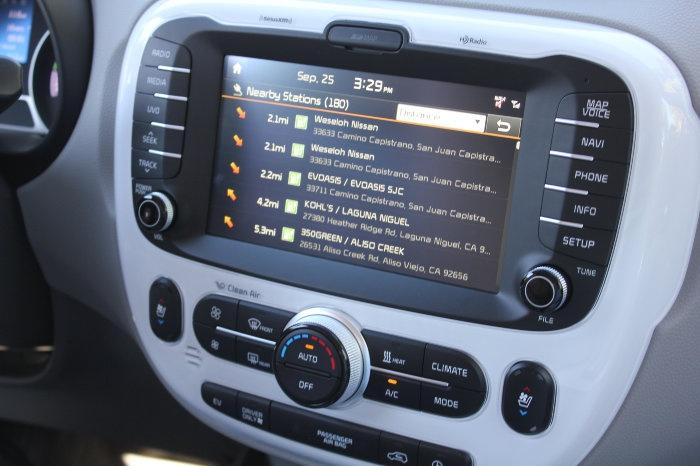 Sadly though, all good things have to come to an end and as we approached the St. Regis hotel at the end of our circuit the battery warning came on and reminded us that we needed to recharge soon.
It was nice though that the navigation system seamlessly came up with a list of all the charging stations that were in range.
Overall, I have to say that I am extremely impressed by the Soul EV and despite the fact that during this review we pushed it to the limits it took everything we threw at it. While clearly there are modifications from the traditional gas version of the Soul, it retains the fun, youthful, energetic and awesome spirit that the rest of the line has. This is a no compromises electric vehicle that is accessible and affordable for anyone who wants to make the transition from gas and lives in an environment where they have charging stations available.
Base price for the Soul EV ranges from $33,700 to $35,700 for the + model (not including the the federal tax rebate of $7,500). Even more remarkable is that they are offering a lease deal that will drop your monthly payments to only $250 / month. This puts a great EV into the range of almost everyone's budget and at least for those of us in California where this will be initially available, it is a welcome addition to the lineup currently dominated by Tesla and "golf cart" cars.