Are you lucky enough to have a partner that loves beer almost as much as you do? Well then I've got a great Valentine's Day gift suggestion for you!
Frankly though, they have a lot more than stuff for the women in our lives and you will have as much fun shopping as she will in receiving it. Of course, if you are lucky, she will remember this place when it comes time for your birthday or fathers day since it has some great gifts for guys too!.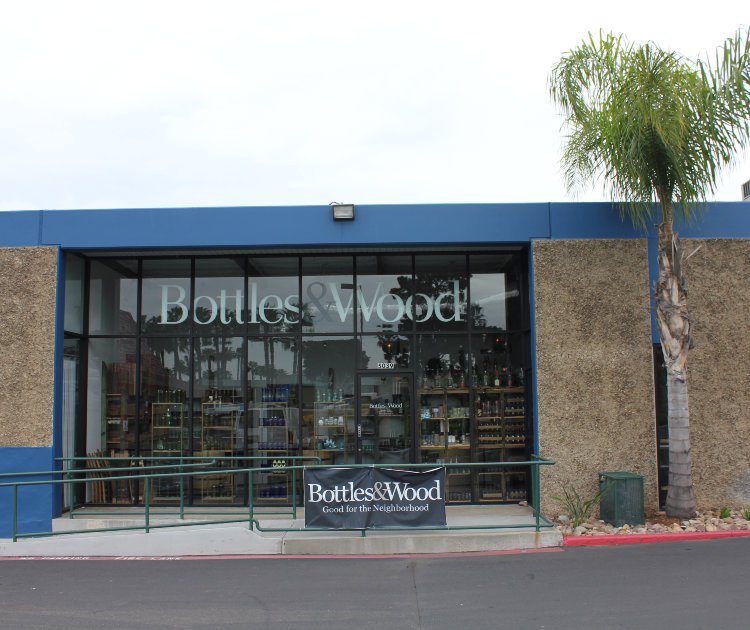 Bottles & Wood is based in San Diego, but it ships nationwide through it's website and through distributors to boutique retailers as well.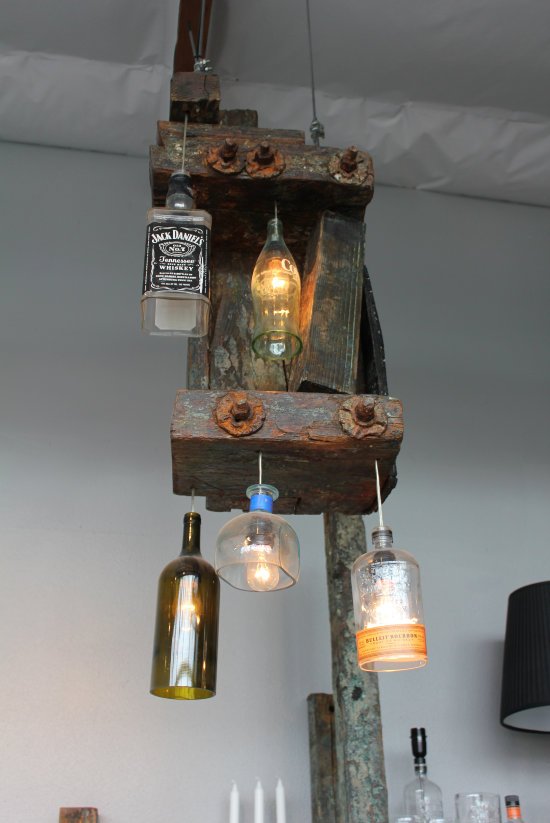 When we walked into the showroom, it was clear that the concept of reclaiming what otherwise would end up in the landfill was not just a kitschy arts and crafts idea but a cause they believed in. One example was this fantastic light display that while not a "for sale" product, was clearly something that was as useful as it was beautiful.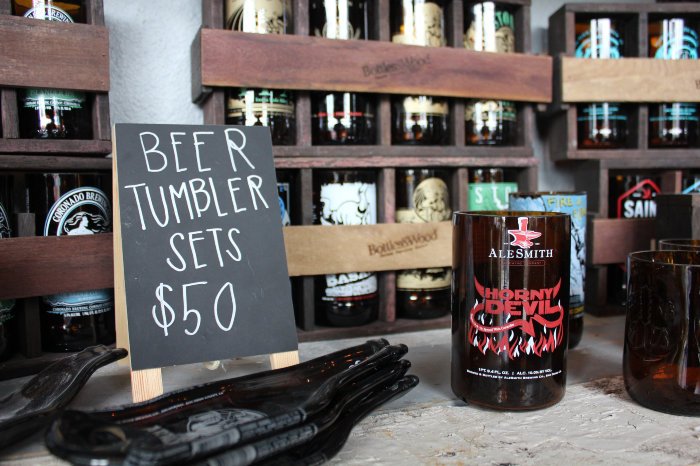 Our first stop as we looked around the shop was their collection of beer tumblers made from some of San Diego's best craft beer from breweries including AleSmith, Saint Archer, Coronado Brewing, and Stone.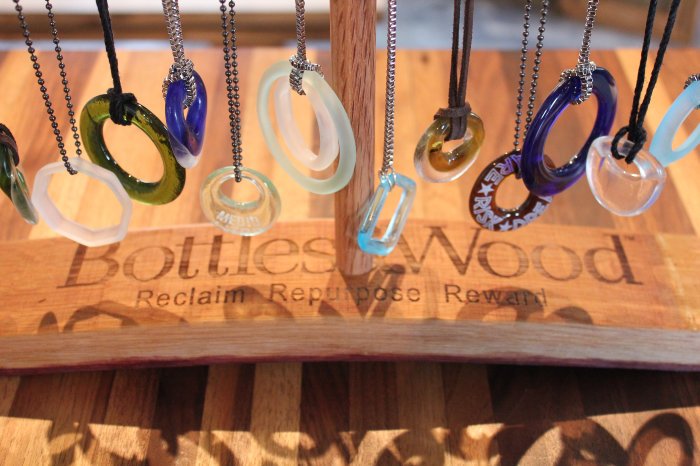 If jewelry is more your woman's style then they also had some beautiful pieces made from melted bottle glass that would make any woman happy. Take your pick of Beer-ings or a Jack n Coke Necklace - there is something that is perfect for anyone's style.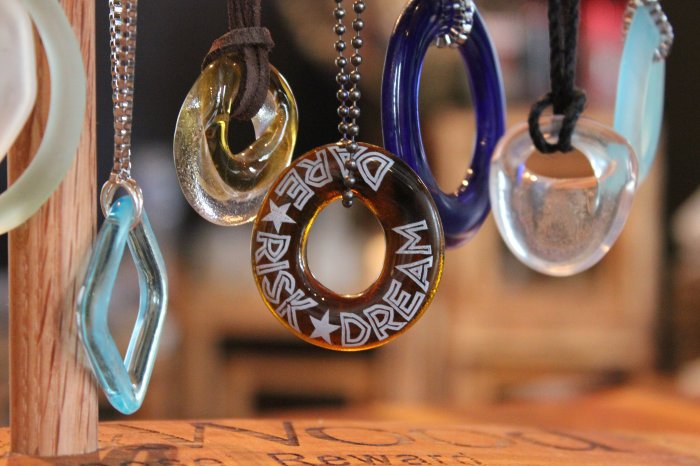 I especially liked the Dare, Risk, Dream Dead Guy Ale Necklace that frankly would be as good of a gift for guys as it would be for you favorite woman!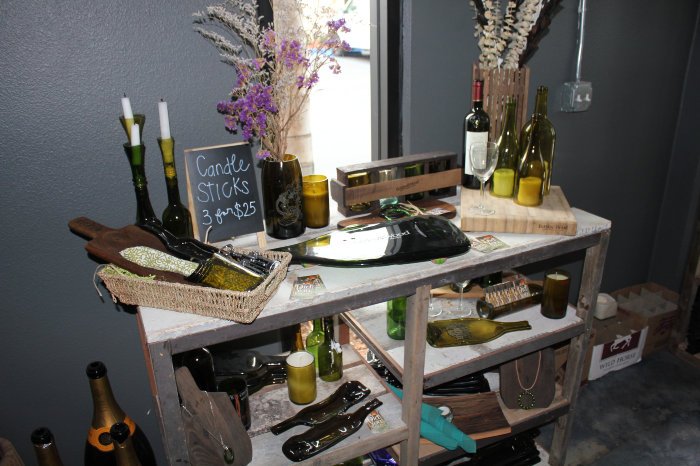 If wine is more your style, that's cool and there were plenty of items from reclaimed wine bottles and barrels as well. These included candle sticks, cheese trays, cutting boards, and of course glasses too.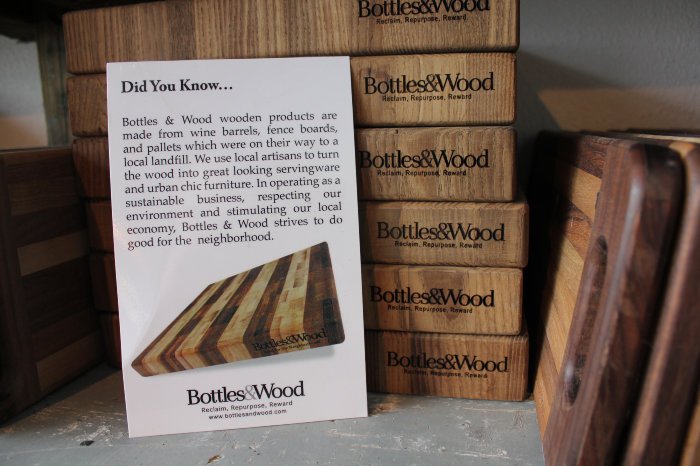 While glass dominates their product selection, reclaimed wood is an equally important part of their mission. The wood they use comes from a variety of sources including wine barrels, fence boards, and pallets that were on their way to a landfill.
They have taken this raw product and transformed it into some great items ranging from Butcher Blocks made from barrel staves to serving paddles made from wine barrel tops.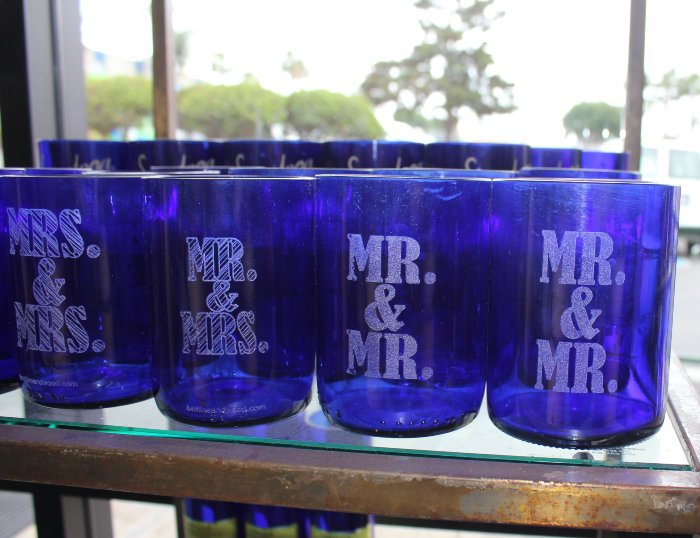 Additionally, we noticed that they had some more unique items that unfortunately you probably won't find at your typical store when searching for wedding gifts such as these Mr. and Mr. tumblrs (they also have Mrs. and Mrs.).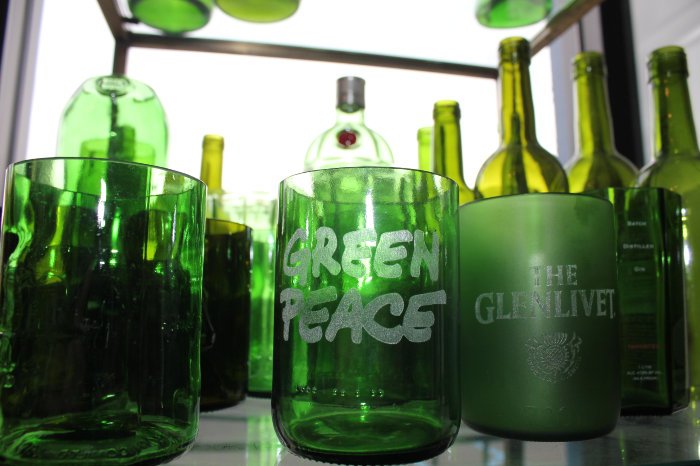 Additionally, I saw this Green Peace tumbler as well and I am told they do a lot of custom work if you need something with your boat's name on it or a cause that you are fond of.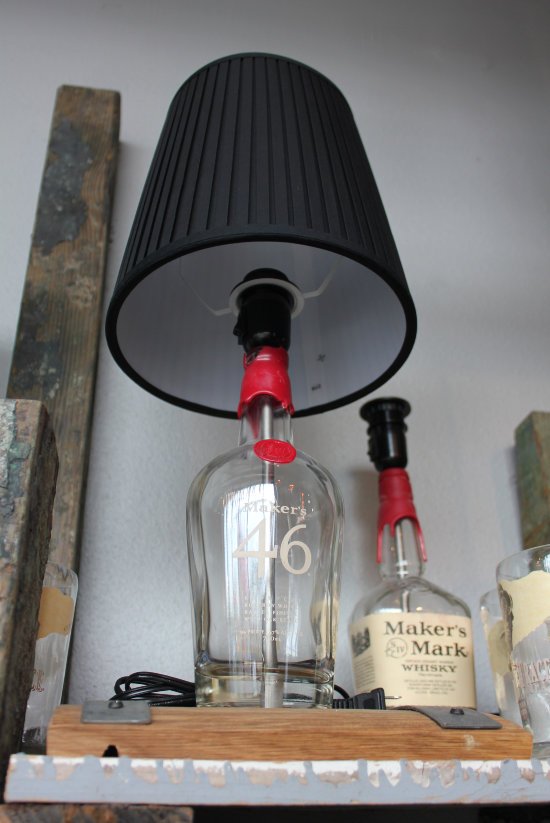 Last but not least - they also have several different lamps made from reclaimed spirits bottles including this one from a Maker's 46 bottle. They also have them from Jack Daniels and Crown, though something tells me that you could have them do a special order for you with your favorite scotch as well!
The cool part is that these are all mounted on a base made from reclaimed wine barrels. While that isn't quite as good as something from an actual Maker's barrel, the reality is no one will notice the difference but they will comment on how great it looks in your mancave!
Bottles & Wood's showroom is located at 5039 Shawline Street in San Diego and their showroom is open from 10 a.m.-4 p.m. Monday-Friday. However, as mentioned above, their website allows you to ship anywhere in the country.