Huawei is one of my favorite companies, simply put they are one of the most customer focused and innovative companies in the mobile and wearables space right now. With the release of the Huawei Watch 2, they are one of the few manufacturers to provide a mass-market smart watch that is functional, affordable, and durable. While it isn't perfect, it's something that I enjoy wearing on my wrist and it helps me be more productive.
The company is aggressive with creating great products that are full of features but at a price point that makes sense. While others focus on gimmicks and bullet points, I generally find that most of Huawei's features are designed to make the phone - and now watches - useful.
While not as well known as other manufactures in the space, I love supporting the company and watching as they evolve. For the past six months, I've been using the Huawei Mate 9 and it's a great phone with super long battery life, quick charging time, a fast processor and a great camera. Plus, it is unlocked for only $599 on Amazon.com and performs competitively to phones several hundred dollars more in price. However, it is a big phone (something I really like). This unfortunately means that it isn't the most discrete to whip out whenever I get a message or to check the time while waiting for someone to get to a meeting.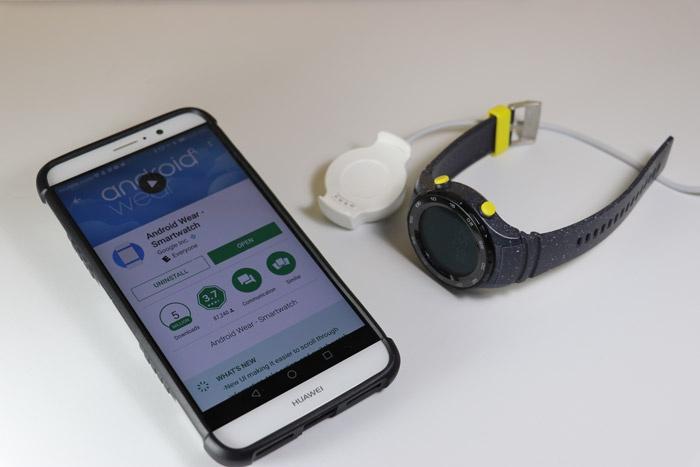 If there is one thing that Huawei does better than any other manufacturer, it is long battery life. This is obviously a combination of various factors but it is a feature that I absolutely love about the Mate 9 (and pretty much every phone in their product line). The Huawei Watch 2 is no exception. With normal use, the battery easily lasts for 2 days before switching into "dumb mode" and functioning only as a watch + pedometer. However, like it's phones the Huawei Watch 2 also charges fast: 0-100% in about an hour through it's magnetic charging coupler.
During our test, I paired it with my Huawei Mate 9 as well as my LG V20 and both of them worked seamlessly with it, so you should have no problem connecting it to any Android phone. Android Wear and Watch 2 also support iOS devices.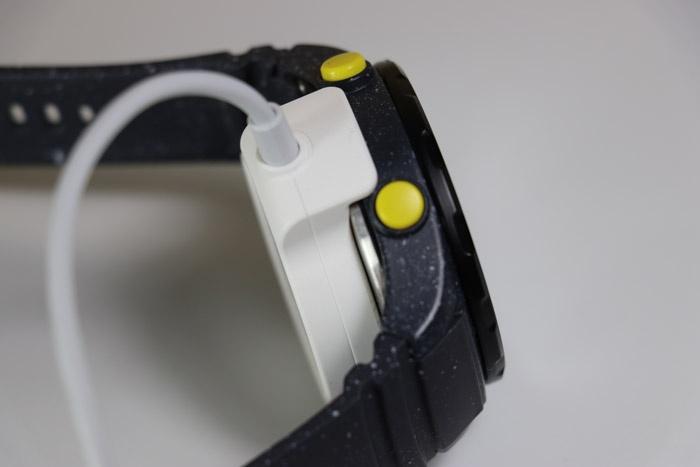 Charging is extremely easy, simply attach the plastic coupling device to the back of the phone and it locks into place with a magnet. For those of you who travel like I do - I found this long battery life was nice since I can leave it at home for quick overnight trips and I didn't run the battery dry.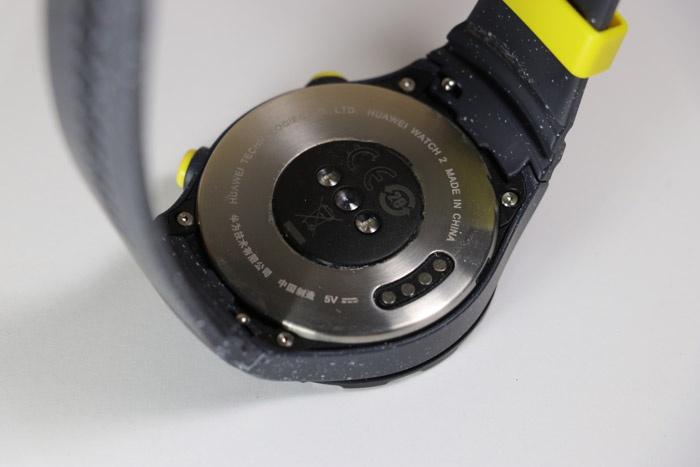 On the back, the watch features a heart rate monitor as well as the charging magnets.
While it looks unassuming at first glance, the Huawei Watch 2 is packed with features including live GPS mapping, real-time guidance, and workout data monitoring through the workout features, and NFC payments, Google Assistant, and the ability to make and receive calls through the watch. This oddly even includes the ability to have the phone function as a speaker and microphone without having to even take your phone out to make quick calls. However, I found the audio quality to be lacking in that mode and prefer to use a headset or the handset itself.
In addition, like any Android Wear 2 device, it also supports a wide range of apps. These include being able to monitor your flight information with the American Airlines app as well as social media and email notifications. I love being able to discretely look at my wrist and like a post or check an email without having to dive into my phone every five minutes. However, it took a little getting used to since every minute or so my wrist vibrated with a new alert.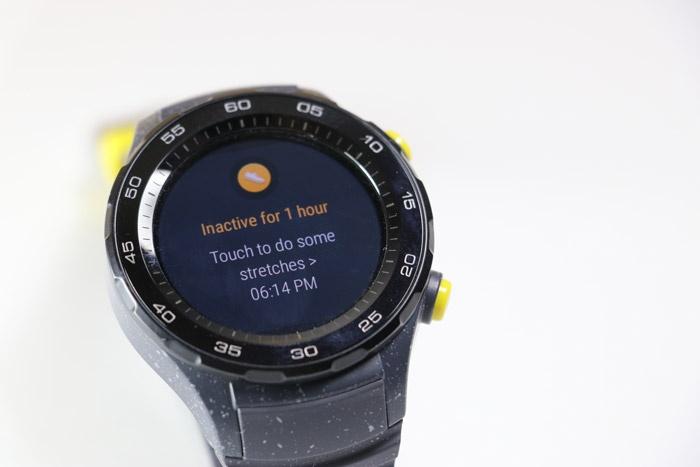 One of the more interesting things that I've found I like about the Huawei Watch 2 is that since it monitors my activity level, it also can prompt me to take a break and do stretches etc.
This is my first experience with wearables and I like it. Huawei sent me this watch for review, but it directly addresses the barriers that had kept me out of the space previously ...
1) Cost - at $299 on Amazon.com, this watch isn't "cheap" but it is affordable.
2) Robust - I've avoided other watches because they were both expensive and too fancy. I was afraid of what might happen if I wore it into the shower, knocked it against a door, or got it caught on my belt or scratched it on something while reaching into my pocket. In the week or so since I've been testing the Huawei Watch 2, I've done all of those and then timidly checked it expecting to find that I've damaged it. Thankfully it has survived easily. In fact, the Watch 2 is rated at iP68 - the same water resistant rating as the Samsung Galaxy S8 (and higher than the iPhone 7, rated iP67). In practical terms, this means that you could wear it into the shower or on your wrist while going to the beach or a water park and likely not have a problem. Though, I would personally take it off if I was snorkeling or diving vs simply splashing around on the surface.
3) Functional - I've been afraid of battery life on watches since I know I'll probably forget to charge it regularly. Like I mentioned above, the battery is both long lasting and fast charging. Even when it runs down to near zero - the watch switches to dumb mode and functions just as a watch and pedometer till I can get home.
Ultimately, this space is full of compromises and I think Huawei has done a great job with the Watch 2. While I'd like a larger screen, more stylish look, as well as a better speaker and mic, I LOVE the fact that this doesn't look like a smart watch and isn't ridiculously expensive so I'm willing to overlook those things.