For most folks, planning a power station program - whether for your house during emergencies, or for an RV, boat, or vacation home, look to diesel or gasoline powered generators to fill up those batteries for later use. Thankfully though, solar technology is both coming down in price as well as becoming much more efficient. Plus, now you can even get portable solar panels that are easy to put out in the sun when you need them ... and pack away when you don't.
One of our favorite manufacturers, BLUETTI just released two new portable panels - PV200 and PV120 with some special deals that you'll want to make sure you don't miss because the deals expire at the end of the month. Both of these can be fully integrated into the AC300 and AC200MAX battery power stations we've talked about previously. you'll want to check out the deals on those as well.
Before you buy, let's take a a closer look at them today and see what's changed compare to the previous SP solar panels.
Model:

PV200NEW

SP200

PV120NEW

SP120

Wattage

200W

200W

120W

120W

Cell Type

Monocrystalline

Monocrystalline

Monocrystalline

Monocrystalline

Cell Connection Type

Parallel

Series

Parallel

Series

Dimension

(Folded)

23.2*24.8 inch

20.5*20.7 inch

21*18.5 inch

16.3*16.1 inch

Dimension (Unfolded)

23.2*89.2 inch

20.5*86.6 inch

21*65 inch

16.3*66.1 inch

Weight

16.1 lbs

14.3 lbs

12.6 lbs

9.5 lbs

Open Circuit Voltage (Voc)

26.1V

24V

24.4V

23.7V

Cell Efficiency

Up to 23.4%

23%

Up to 23.4%

23%

Warranty

2-year worry-free warranty

2-year worry-free warranty

2-year worry-free warranty

2-year worry-free warranty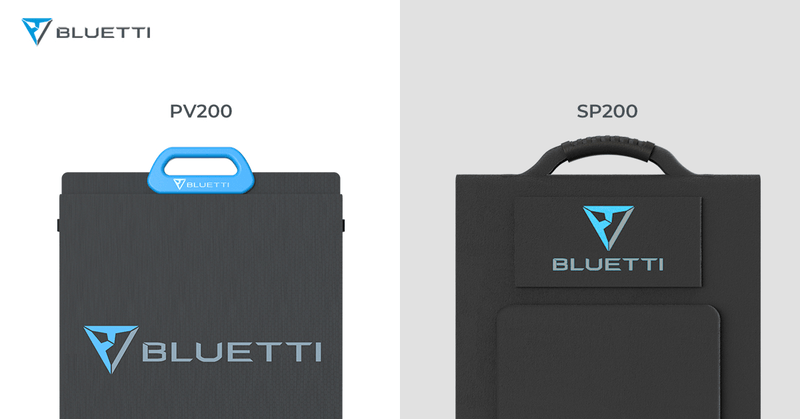 We really like these Bluetti solar panels because of how portable it is with a rubber handle to make it easier to carry. Additionally, they are both designed to be as easy to use with the PV series featuring one-piece waterproof coating that protects all of the solar cells while the SP series are stitched together on one giant row canvas.
While both have a similar level of efficiency as provided by the monocrystalline material providing an overall efficiency of 23-24%.
However, some solar panels (such as the SP series) are designed with the cells in a series. This can cause them to experience sharp declines in efficiency even from just a small portion positioned in the shade. Bluetti's PV200 and PV120 solar panels though, are designed in parallel to allow for each cell to operate individually and at the same voltage. The impact can be quite striking in that on the PV200, 50% shade still delivers 50% power while on the SP200 50% shade delivers only 10%.
No Fumes
this first one should be obvious, solar panels don't generate any fumes the way a traditional generator would. This means you can use them in sensitive environmental areas as well as protecting your family from the dangers of chemicals in the exhaust. Plus, frankly these fumes just stink. They aren't pleasant to smell!
No Noise
Even if noxious fumes from a generator weren't enough to bother your health, generators are loud while solar panels are clearly silent. This makes them perfect for use in situations where you want to still be able to enjoy the peace and quiet of nature. For instance, maybe you are planning an overlanding trip and want to still be able to hear that crash of the surf while powering all your gear or a hunting cabin where a noisy generator could scare away game.
Freedom To Get Power Wherever You Want
Ok, so solar panels won't work in the bottom of a dark cave somewhere but compared to either plugging your batteries into a generator or an electric socket to charge up - solar panels let you recharge the batteries in your power station wherever the sun shines.
Solar Panels + Batteries Makes For A Completely Sustainable Power Station
With other configuration, you'd have to continue bringing "stuff" to charge your batteries. This means that not only are you going to have additional costs but it is also consuming additional resources. Even plugging the power station into the grid is most likely getting power from coal or natural gas.
While solar panels may seem more expensive initially, it is important to consider the convenience factor as well as total cost of ownership over five and ten years of use. Once you do this, you'll be almost certain to realize that solar panels are really the only open that makes sense for most power station plans.