Whether it's going out to watch a concert at a park, a soccer game, or just visiting friends, it can be a pain in the butt if you have a kid. While this ciao! baby high chair can't make everything about traveling with an infant easier, it does help. What the company has done is create a great portable travel high-chair that is easy to take with you wherever you might be headed.
After testing the ciao! baby portable high chair we think it's a great product we've looked at other options in places such as the high chairs guide by My Babies Planet and still think this one is tops since it is portable and easy to travel with.
There are tons of places where you wish you could have a stable, high-quality highchair but typically they aren't designed for anything other than for in-home use. That's the niche that the ciao! baby high chair seeks to fill. Frankly speaking, it does a great job and it is something the parents of infants should definitely consider if they love to travel ... even if it's just down the block to a neighbor's house for a summer BBQ.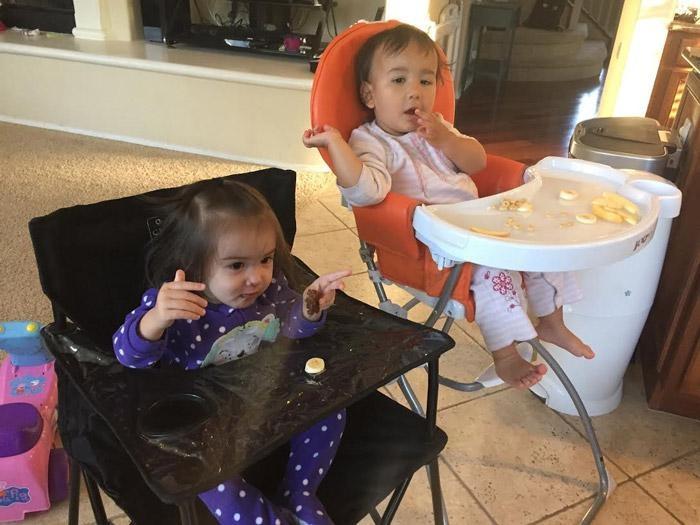 Things We Love About ciao! baby Portable High Chair
Having something this portable - essentially the same weight, setup and takedown of heavy-duty camp chair was extremely nice. It's portable enough that it will be easy to take the ciao! baby high chair camping and to the beach as well being attractive enough to also take when visiting other houses for play dates and birthday parties.
Additionally, the safety harness and seat is designed extremely well to the point where the very active 2-year-old we used to test the chair wasn't able to wriggle her way out of it.
Finally, the ciao! baby high chair is very easy to clean and the quality of materials is very good as well.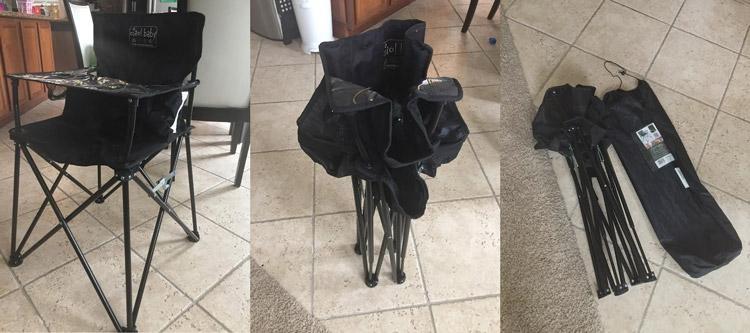 ciao! baby portable travel high chair folds neatly like a camp chair!
What We Didn't Love About ciao! baby Portable High Chair
From a design perspective, the caio! baby high chair is excellent, with one exception. The table portion is not completely flat once food or a sippy cup it placed on it. This means that when using it for food ... especially loose food, it can slide towards the child making it easier for them to make a mess.
The only other feedback that I got from some moms that were invited to check it out was that some thought the cost of the high chair was too expensive. However, that's mostly a subjective thing and you have to make that call on your own. At $53 on Amazon.com, it certainly isn't cheap but I think the quality merits a premium price and it can be used again for other children or sold / traded to others once your own child outgrows the caio! baby high chair.
At the end of the day, the dad who tested the product for us said that they liked it so much that they decided to sell their expensive high chair and keep the ciao! baby one since it allowed them the freedom to enjoy their lives the way they want to - without sacrificing their child's safety and comfort.