By conventional wisdom, summer is almost over but for those of us in the South West the hottest months of the year are just beginning. So far, I've survived them pretty well compared to the misery I experienced last year. For better or worse, I live in a loft with no air conditioning and the windows are not able to support a standard window box so I pretty much thought I was SOL and destined to cope with the way I did last year (cold showers and mid-afternoon retreats to sit in the car with the AC going). A couple months ago though I received a portable AC unit from NewAir - their AC-12200E and have been testing it out as well as doing some DIY projects to make it even better for our home.
Some Quick Features and Specs
12000 BTU
1120 watts 220.7 CFM
3 fan speeds and 24 hour programmable timer
3 in 1 design cools, ventilates & dehumidifies
425 sq ft coverage
Electronic controls with membrane switch
Removes 4.86 pints of moisture per hour
So How Do I Like It?
It's cool! I have another that I bought at the end of the season last year and this one is much better in almost every way possible. However, there are a few things that you need to know about portable air conditioners so you can get maximum benefit from them. The biggest issue is that unlike a window box, these beasts vent super hot exhaust air out the back and the simple plastic hose (or foil like I added - see below) simply aren't insulated enough (at all) to keep that heat from going back into your room.
I think the best way to look at this whole segment is that it's a GREAT option when you can't do anything else. That sounds terrible, but the reality is that it works ... just not as well as other solutions. However, for those of you in apartments like mine, the NewAir AC-12200E is a lifesaver!
The controls are super easy to ready and I like the relatively large buttons on the top.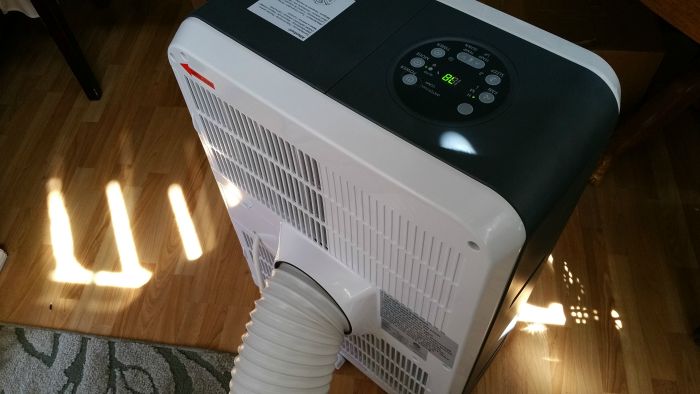 The AC-12200E, like most portable AC units came with a window mounting kit and was very easy to install in a matter of minutes.
However, in our loft there were a few modifications that needed to be made 1) upstairs we needed to curtain off so that the cool air stayed there and 2) downstairs we needed a longer hose to mount since the window opening is towards the ceiling. Finally, we needed to do something about insulating the hose so the heat doesn't just radiate back into the room.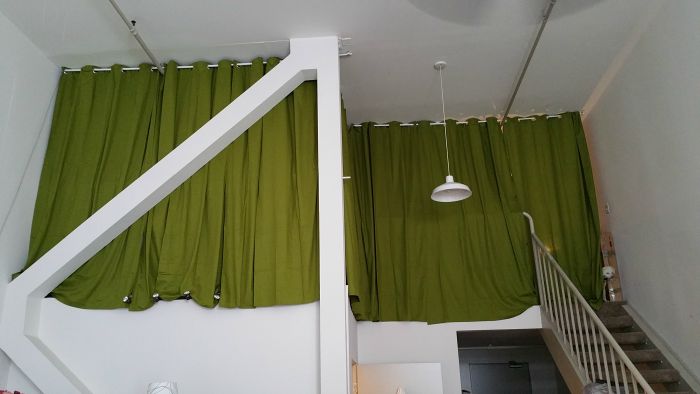 Upstairs was the easiest. We simply mounted curtains to block of the space. Make sure to use heavy enough material so that it keeps the cool air in. I sort of like it now since it also gives us a bit more privacy for our bedroom.
For the downstairs, I was able to purchase some standard exhaust ducting from Lowes or Home Depot (ask for the stuff if you were installing the exhaust for a dryer). The side benefit of this is that our AC is now mobile! Since as you can see, we have a massive cubic space, we just point the AC at the couch when we are there and move it back away when we aren't.
Finally, for the upstairs unit since it is immobile we are able to insulate the exhaust tube so that it prevents hot air from coming back in the room. There are many solutions to this, but I find that wrapping a bath towel around the ducting works well. It isn't perfect but it is easy to remove at the end of summer and helps keep the hot air where it belongs - outside!
So, overall, the NewAir AC-12200E works really well and is superior to other units I've experienced. The only issues I have are ones that you'll find in anything in this space but as I mentioned above, there are always ways to make things better.