There's no shortage of restaurants in San Diego's Gaslamp quarter, but one category that seems weak (compared to steaks, Italian, etc.) is seafood. Osetra is one of the few in this crowded area, so when I got invited to check it out I was extremely excited for the opportunity. After all, we had already visited it's sister properties Greystone Steakhouse and Osteria Panevino and had fantastic experiences at both of them.
Osetra is owned by the same group as those others, but it is distinctly modern and almost chic compared to the other two, with features like a wine angel who "flies" up and down the two-story wine rack to pick out your selection, an extensive raw bar, and even sushi.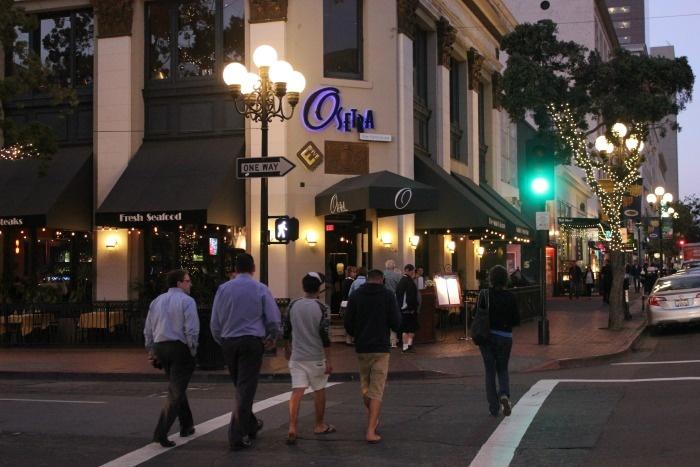 As mentioned above, this isn't an "Italian" restaurant - though certainly Osetra has Italian influences such as pasta, but that is mixed with culinary influence from Europe in general, the best of North America, and the Pacific Rim.
In addition to an extensive wine collection, they also have a fully stocked ice bar with one of the better collections of vodka that I've found in San Diego. That's good since they also have great oysters and caviar to go with it!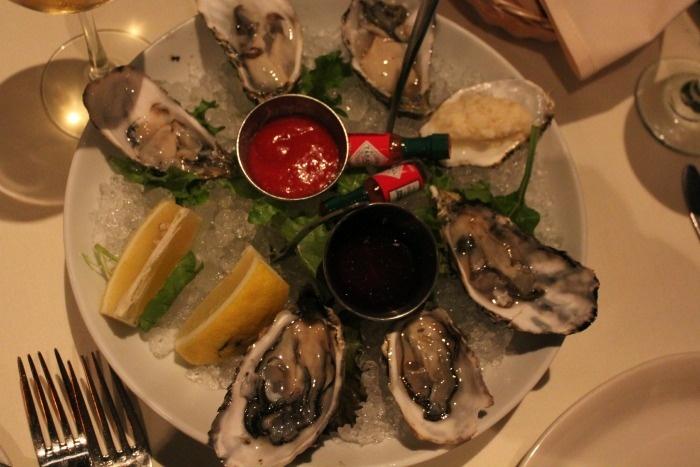 As mentioned, Osetra features a full raw bar and while I am partial to my muddy Atlantic oysters from the the South East United States, the waiter and raw bar manager were able to recommend a pairing of oysters from the west coast that were delicious.
We didn't have it, but if you are planning a dinner to celebrate a San Diego Bachelor Party then you'll have to go for the "Chef's Selection Chilled Platter". We saw a couple of these go out while we enjoyed our dinner and it is over the top. Certainly the type of appetizer to order to impress your guests. It consists of Alaskan King Crab, 1/2 live Maine Lobster, Baja California Shrimp, Oysters, New Zealand Green Lipped Mussels, Manila Clams, Maryland Scallops and appropriate garnishes and condiments for your feast.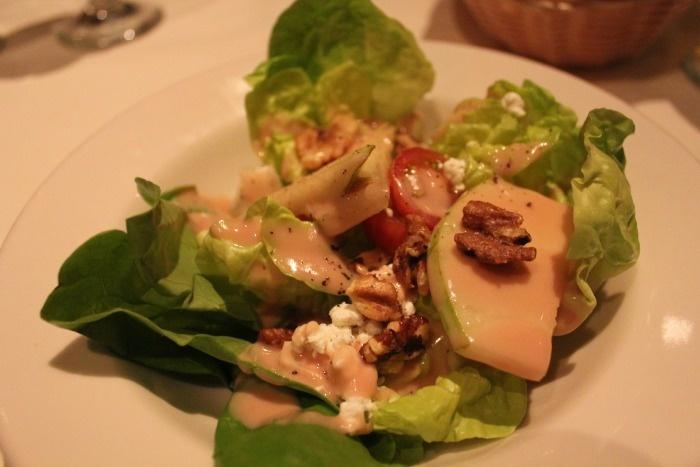 Our salad was the Osetra Organic Pear Salad consisting of Butter lettuce, pear, goat cheese, caramelized walnuts, cherry tomatoes, cranberries, and a blood orange vinaigrette.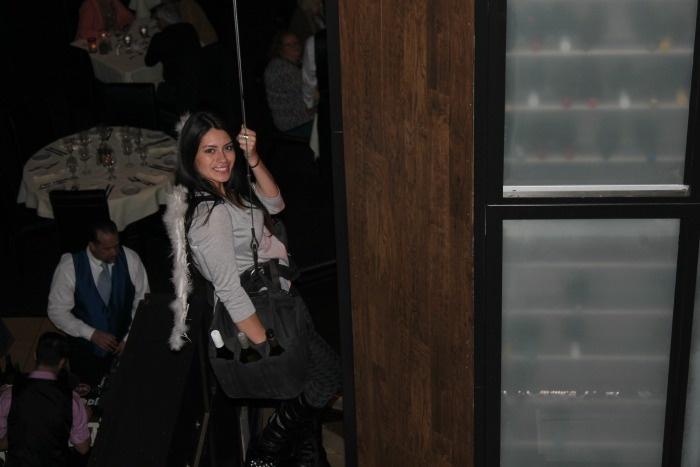 As mentioned, here is one of their lovely Wine Angels!
It was fun to watch as she would fly up, down, and around the giant wine rack that was positioned in the middle of the restaurant between the two floors.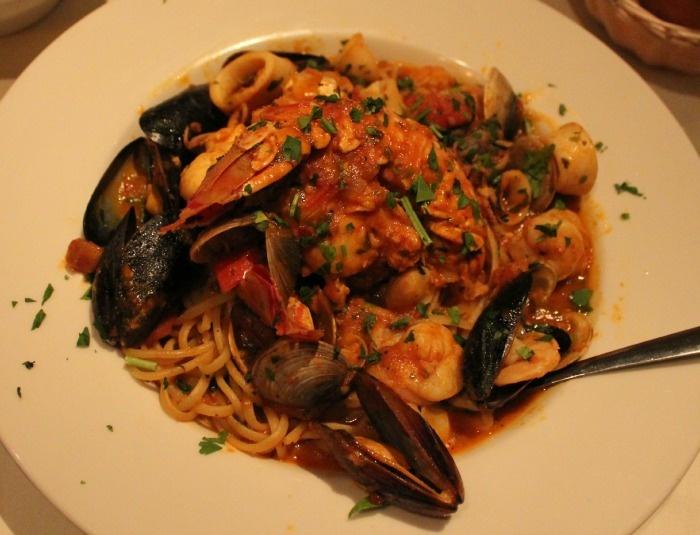 Heather ordered the sea scallops and because I am just a crazy sucker for anything resembling a cioppino decided to try their Lobster Fettuccine. In reality it is essentially the same as my favorite dish - except that instead of the seafood sitting in a broth like a stew, it was resting on a bed of pasta (and broth). It was delicious and I highly recommend it if you like cioppino, seafood, pasta, or just simply can't decide if you want clams, calamari, mussels, or lobster. Why not just get them all :)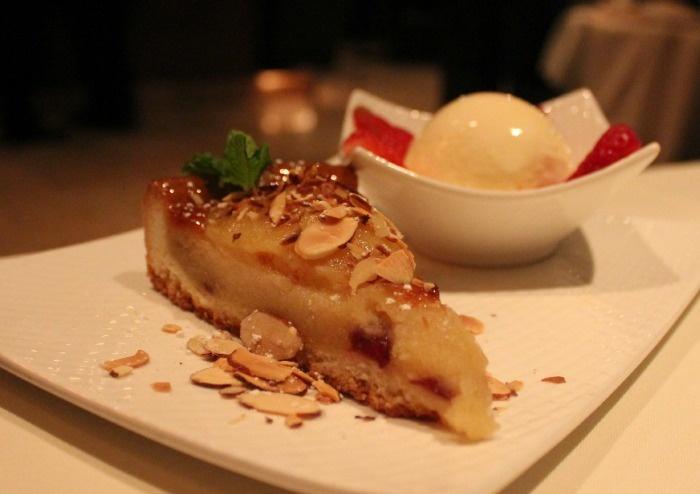 For dessert we shared the Pear Torte and Warm Chocolate Melting Cake. While some people go crazy for melting cake, I just don't care for it though it was very good here at Osetra. On the other hand, I really enjoyed the pear torte with almonds on top.
Heather and I both enjoyed our experience here at Osetra and look forward visiting again, or maybe for Happy Hour when they have a great selection of tapas including Oysters on the half shell for $1 as well as various sushi and sashimi plates along with drink specials.
Osetra Fish House is located at 905 5th Avenue in San Diego.