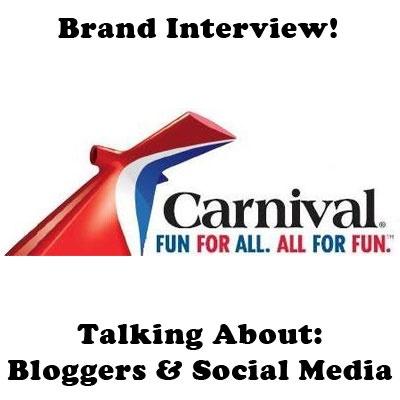 In our second interview of this series, we talk with Joyce Olivia, PR at Carnival Cruise Lines.
As you know, we are HUGE fans of Carnival and I think they are one of the top travel brands out there that really understands how social media and the travel industry have come together to extend the experience that most people will only be able to experience for a few days each year, into something that they plan, dream, and remember all year long.
How has Social Media Changed the traditional "PR" business?
The PR business has changed tremendously from just three to four years ago. A lot of consumers get their information not just from traditional media, so we've had to start working with bloggers/influencers to help us get our messaging and news out. Social media has also allowed our guests to be an extension of marketing strategy, when they post pictures of their vacations and talk about what a great time they're having.
When did Carnival start thinking about creating "social" vs just "traditional media" programs?
We have had a presence in the social media world for a few years now and were one of the first cruise lines with a social media presence. What we try to do is develop not just individual social and traditional media programs, but work together to make sure those programs intertwine cohesively.
What are you looking for when you pick people to work with on social campaigns?
We look for bloggers/influencers with strong and solid social media followings that produce great content. Numbers are important, but you can have a great niche blogger that might not have a huge following with a solid and reputable voice in their area of expertise. Quality is also a big factor, no matter how big an influencers' numbers might be, if the quality of their work is poor, not many brands will want to work with them. Also, "bought" followers are a big no-no, brands can spot bloggers who partake in those types of practices and it only hurts the bloggers' chances of working with a brand then help them.
Thank you Joyce!
Carnival Cruise Lines on Social Media:
Facebook: https://www.facebook.com/Carnival
Twitter: https://twitter.com/carnivalcruise and https://twitter.com/carnivalpr

Pinterest: https://www.pinterest.com/carnivalcruise
Instagram: https://instagram.com/carnival
YouTube: https://www.youtube.com/user/carnival/custom
Google+: https://plus.google.com/+Carnival